Looking for a personalised Christmas gift? You've come to the right place - you don't get more personal than our range of genetic products. Help your loved ones unlock their full health potential in 2019 - because everyone deserves to get DNAFit.
It's that time of year again, where everyone's looking for Christmas gift ideas. If you want to spoil your loved ones, why not give them something that will change their life forever (in a good way).
DNAFit is a great gift for gym lovers (even GQ Magazine agrees) and fitness fanatics, people looking to lose weight, eat healthily or simply improve their general health and wellness (and Livestrong is on board with us). Our range of personalised genetic products will help recipients get a head start on their New Year's resolutions in 2019.

Gift someone a DNAFit kit and help them reach their goals faster
Give DNAFit, Get DNAFit
Know more than one person who'd love to get DNAFit? We'll give you the second kit for half the price!
Diet Fitness Pro 360: DNA testing for both fitness and nutrition (£179)
Diet Fitness Pro 360 is an excellent choice if you're looking for a creative, thoughtful and extremely personalised Christmas gift.
With Diet Fitness Pro 360, they'll learn more about their:
Optimal diet type (Mediterranean, low-fat or low-carb)

Carbohydrate and fat response

Antioxidant and omega 3 requirements

Folate, vitamin B and vitamin D requirements

Salt, alcohol and caffeine sensitivity

Lactose tolerance

Coeliac predisposition

Access to DNAFit's

MealPlanner

online platform

Training intensity response (power/endurance profile)

Aerobic trainability (VO2 max potential)

Injury risk

Post-training recovery speed

Access to DNAFit's

Elevate

(Fat Burner/Muscle Builder) online platform

Access to the

DNAFit app
They'll also receive 30-minute consults with one of our dietitians and one of our sports scientists, and personalised, genetically-guided meal and training plans.
Learn why DNAFit is the best DNA test for diet and fitness.
SnapShot, our at home blood test, is the perfect stocking filler (£64 £48)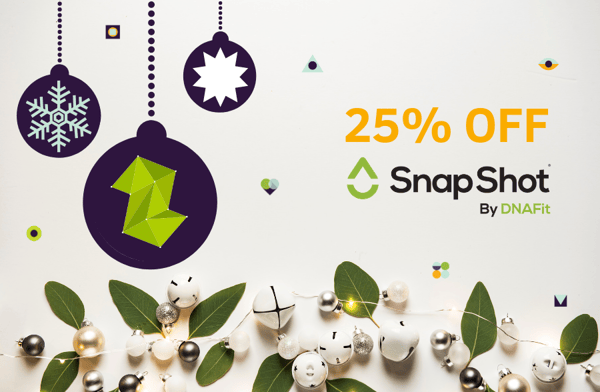 If your recipient is interested in learning more about their internal health, SnapShot's an exciting and novel gift idea. If they're already a DNAFit customer and want to take the next step in their wellness journey, SnapShot imports their genetic results, for them to understand how their genetics and blood results interact.
All SnapShot samples are analysed by one of our doctors who review the results. We provide an overall summary – to help consolidate the details and let people know which key areas to focus on.
SnapShot results report on the following blood marker levels
Lipids

Iron

Liver function

Vitamins

Inflammation
For each blood marker, they'll learn:
The role it plays in the body

How your lifestyle affects your levels

Your blood results, and your progress toward your health goals over time

Habits to keep your levels within a healthy range
Learn more about SnapShot.
As you can see, we've got some unusual Christmas gifts for you to "wow" your loved ones with this year. Wishing you and your loved ones a happy, restful Christmas and may 2019 be the year you reach your health and fitness goals!