It's Friday lunchtime which means one thing in the DNAfit office - Fit Food Friday! This Friday, the DNAfit team were craving personalised, genetically matched meals so there was only one place for it - Vita Mojo!
Firstly, what is Fit Food Friday?
The DNAfit team's favourite day of the week is Friday! Not because of the approaching weekend but because of Fit Food Friday, commonly known as FFF. Our dietitians select a different menu every Friday and indicate the healthiest food choices. In addition to this, each menu item will receive a health score. This was created to assist the team in making the healthiest food choice. We encourage our employees to go for the lowest score possible.
To determine the health score, each menu item is picked apart and each component will receive either a positive or negative score.
The scoring system used looks as follows:
Fried, crispy or roasted ingredients (roast chicken or fried aubergine) - Score = +3
Refined carbohydrates present (white burger bun) - Score = +3
Combo meals (curries, baked pastas) - Score = +2
Contains a sauce - Score = +1.5
Large portion sizes - Score = +1
High fat proteins (e.g lamb) - Score = +1
Contains salt - Score = +0.5
Unrefined starch present (whole grain burger bun) - Score = -1
Lean proteins (e.g. fish) - Score = -1
Contains unsaturated fat (avocado or nuts) - Score = -1
Salad or steamed vegetables - Score = -1.5
For the healthiest menu items, aim for a score of 3 or less.
Adopting this scoring system and applying it on a daily basis can assist you to make the healthiest food choices possible and will make you think twice when doing your monthly shopping.
What is Vita Mojo?
If you're even asking that question, does that mean you haven't tried it yet?! For those of you that haven't had the pleasure of experiencing the future of nutrition, Vita Mojo offers ultra-personalised, ultra-nutritious and ultra-delicious meals - and just when you thought it couldn't get any better, they also offer ultra-genetically matched meals! Vita Mojo has 3 restaurants across London: St. Paul's, Bank and Spitalfields, so make sure you pay them a visit.
The dream combination - Fit Food Friday and Vita Mojo
This Friday we took personalised nutrition to the next level with the nutrition dream team - DNAfit and Vita Mojo. The team linked up their DNA results with Vita Mojo and the tough part began - choosing from all the delicious ingredients they have on offer! To help make your decision slightly easier each choice on the menu has an icon next to it. The green helix implies that the specific menu choice is better for your DNA. While these icons are here in order to help you make more mindful choices, they aren't restrictive. And the pink helix indicates food choices contain ingredients or foods that you should not be over-consuming based on your genetics.
What did we order and why?
Simon Dean - Smashing those omega-3's and cruciferous veggies
"My results show that I need to be careful on the carbs, while going big on vitamins B, D and omega-3. I'm not that good at detoxification, so I always amp the cruciferous veggies." - Simon Dean
Anna Hollis - Living the low carb and high vitamin B, omega-3, antioxidants and cruciferous veg life
"My DNAfit results show that I'm better suited to a low carb diet and that I have a raised need for Vitamin B, Omega 3, Antioxidants and cruciferous vegetables. The couscous provided me with B vitamins and Omega 3, the broccoli is a cruciferous vegetable and a great source of antioxidants and avocado is a good source of antioxidants." -Anna Hollis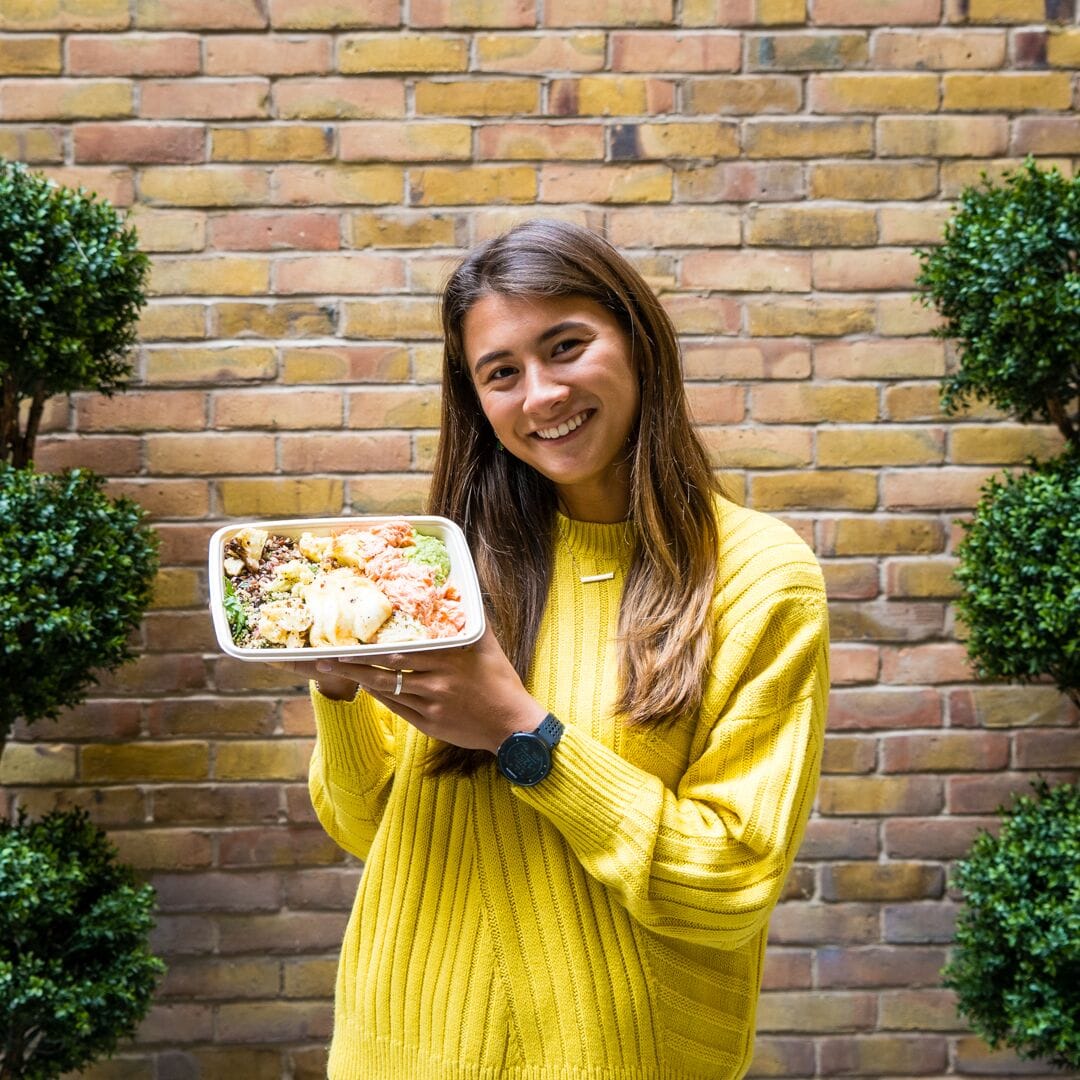 Mia Baker - Omega-Me 🤸🏻‍♀️
"Hot smoked salmon, roasted cauliflower, pomegranate quinoa and avocado mash. The perfect combo to match my genetic needs for Omega-3, cruciferous veg, and low carbs as well as tasting absolutely delicious." - Mia Baker
Louis Fawl - Fishy Fridays
"I went for a balance of carbs and fats to match my Mediterranean diet type. I ordered a big serving of hot smoked salmon too, for a protein, vitamin D and Omega 3 hit." - Louis Fawl
Sebastian Corpe - Fat fan club
"My results showed that I tolerate fats well but I'm more sensitive to carbs, so I had a good portion of chicken thighs and a smaller amount of quinoa which also helps towards my raised need for B-vitamins." - Sebastian Corpe
If you are an existing DNAfit user you can get 30% off your first genetically matched meal at Vita Mojo!
Just log into your online DNAfit portal and click on the 'Partner Discounts' tile, and you'll see your Vita Mojo discount and added discounts with other exciting companies.
Stay up to date with the latest tips, trends and advice from the DNAfit wellness team. Subscribe to our monthly newsletter, and we'll send you more helpful content straight to your inbox! Just fill in the form below. 👇