Honey Bees are a hard-working species, constantly busy reaching their goals. This is where the phrase 'as busy as a bee' comes from. If you're a busy bee, DNAfit wants to make sure fitting-in your fitness leaves you with that productive happy and healthy feeling–with your honey-pot-filled to the brim.
Why is fitness so important?
Obesity is on the rise. Many people suffer from health problems that could be avoided if a premium was placed on any sort of daily exercise. This isn't telling you that you need to become a bodybuilder or a marathon runner, but we all need to find simple ways to maintain some sort of basic fitness level–so that we don't fall victim to illnesses that arise from a sedentary lifestyle. But, you're probably busy all day, every day, right? That's okay–we'll show you how to fit training into your day.
Simple training tips for busy people to stay active
Life's day-to-day activities from work, to fetching and carrying kids, cooking, catching up with our partners, friends (and more work) are just some of the reasons why everyone's so busy. There doesn't seem to be a pause to fit in any sort of fitness regime. But wait! Incorporating some fitness training into your day just got easier with these expert tips from the DNAfit wellness team.


1. Add your workout to your daily schedule
This one might seem silly, but booking your workouts as an important "meeting" in your diary is a great way to ensure you have time available to hit the gym or go for a walk around the block.
Gone are the days of workout charts on fridge doors and sticking up post-it reminders. Thanks to technology, your smartphone has become the best way to manage your life. Literally–your entire life is in the palm of your hand. Set your workout reminder on your smartphone's calendar and, when the notification goes off, you'll feel obligated to get some exercise in. You also shouldn't have anything else planned at that moment in time because it was blocked out in your diary already.


2. Swap screen time for training time!
Many of us complain about not having enough time to workout and keep fit–but how much time do we spend transfixed by screens throughout the day? If you're anything like the average person, then "quite a lot" is probably an appropriate (and understated) response.
Fun fact: Research shows that the average person spends 142 minutes (2 hours, 22 minutes) per day on social media–that's pretty scary! Not to mention the additional 2 to 4 hours we spend watching TV, according to Netflix statistics.
Whether we enjoy binge-watching Netflix or like to spend our time perusing exotic destinations on Instagram, most of us can afford to swap some of that screen time for a 30-45 minute workout. If it's a struggle at first, try a squat challenge during your favourite TV show or instead of sitting and scrolling through facebook, stand up and lunge 2, 3, 4 as you scroll. That way you're fitting activity in, no matter what you're doing!
You can gradually work on replacing TV time (or phone-in-hand) with a quick 20 to 30-minute walk around the block to your favourite upbeat playlist before you settle down to make dinner. No matter how you start off building that routine, keep your fitness goal in mind and keep working towards it. You've got this!


3. We like to move it, move it...
Who said staying fit wouldn't be fun? The key to maintaining physical fitness is to stay active all.the.time! Okay, so that sounds difficult–but it's a seriously spectacular idea that will revolutionise your stationary-lifestyle into spritely-style! 😎 Gym too far? Outdoors too 'outsidey' for you? No problem. Whatever you have to do today, add motion to your ocean of must-do tasks–right where you are. Washing the dishes? Put on a song and shake your booty with a side step to the dish rack and back. We bet you can't resist tapping your toes along with King Julian to help you move it, move it...
Think about it, if you simply keep moving, tapping, bopping and hopping through your day, you'll start creating this outlook of wanting to do more, more often. It can be small shifts, like getting some squats in when waiting for the bath to run, or setting an upbeat song as your mobile ringtone so you do a little jig whenever it rings. The possibilities are endless! Not only will staying active keep your body in shape, it will boost your mood and help keep you smiling all day long.


4. Get active on your next date
The era of making our own rules is upon us. Dates don't have to be those typical fine dining experiences anymore. There's nothing wrong with a traditional night of dinner, movies and drinks, to connect with the hottie in your life. But, what if you looked at things a little differently? 👀
Sometimes we need a partner to get motivated, that's okay! So, why not suggest a date where you spend the day hiking in a beautiful part of your country? Or pick a fun couple-sport like squash or tennis and challenge your best friends to a double-date? You could even try indoor rock-climbing, if you're both competitive and adventurous. First one to the top is treated to a post-climbing smoothie. One, two, three GO (get that free smoothie)! How about a swim at the beach? Keeping your resistance against those all-powerful waves while holding onto the love of your life is pretty fun and packs-in the high-five fitness-factor. ✋The endorphins you'll feel rushing through your body will beat any traditional, sedentary date and you'll be staying active together.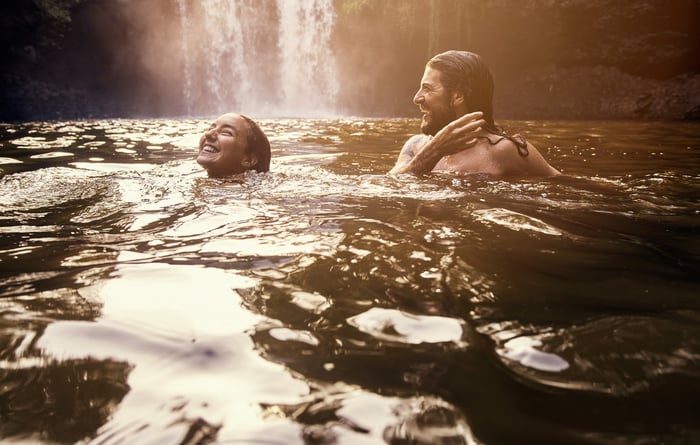 5. Wake up earlier–it'll boost your productivity
Who loves to sleep? Everyone! Sleep is not only awesome but crucial for a healthy lifestyle. Now, this doesn't mean to say that you should stay up late every night binging on old episodes of Game of Thrones and waking up the next day a mere minutes before you're meant to leave for work. If you're a serial snooze button abuser, then this tip will really help you...
If you broke your day into zones, the morning is one of the best zones to be in–as you have the whole day to look forward to.
Imagine how much more you can do with your day if you woke up 20 minutes earlier and got in the zone, to get going without a mad-rush? Think of all the things you could do! Watching the sun rise, savouring your morning coffee, or even a balancing sun-salutation in the garden! Training in the morning gets you ready for the upcoming day–and you'll feel as though you've already achieved something on your way to work. 💪


6. With gym's still closed, try working out in your lounge!
Many of us feel as though we're too busy to train. Why? The admin of training away from home can be a schlep–not to mention that going to the gym can be overwhelming. Admit it! Before you drive to the gym, you may have to fetch your kids from school and drop them somewhere safe, run errands, change from work clothes into appropriate gym apparel or even top up on petrol… the list can go on and on.
Stop and remember: Exercise doesn't require a membership card!
You can easily train at home. Thanks to our new online lifestyles, there are bodyweight exercises, aerobic videos, online workouts, dance workouts and so much more you can do in the comfort of your home. Whether you use a training app like DNAfit's Elevate platform or Fiit, or try some of these creative at-home exercises from our Busy mum's guide to at-home exercises, you can fit your workouts in without having to journey to the gym.


7. Use the power of technology–tracking your fitness with apps
Okay so, we know using your smartphone to schedule your day is a way to springboard into training-time, but there are even more ways that technology can help you track your progress and stay motivated to achieve realistic goals. A lot of the time technology is associated with training itself (as we mentioned above). However, tracking your sets and sessions and optimising your diet is an important way to support whatever training you're involved in.
One study found 89% of people who use a combination of diet and exercise have lost weight and kept it off successfully for a minimum of one year. 10% had success using diet alone and only 1% were successful using exercise alone. So, it's evident that a combination of diet and exercise is most effect. Stand-alone diet optimisation helps you lose weight while quality exercise practices improves your physical fitness.
Remember to get tech-ed for both diet and fitness, this will encourage your all round well-being. The world is awash with tracking technology and fitness apps that use your own personal data and set you daily benchmarks that you can achieve. Using these apps will allow you to meet your daily goals, eat better, and make visible progress–giving you the motivation you need to keep going. Before you know it, you'll be a fitness fanatic. Try Google Fit for that next-step fit-tech fabulosity, and check out the Habitica App, it can help you align your nutritional habits to your diet goals.


8. Build a support crew: team fitness for the win!
Dragging yourself to the gym and going through the motions is one thing. Doing it alone is another. It's difficult to motivate yourself at 5 am in the morning and it's easy to make excuses. Especially if you've only got yourself to answer to. Some advice from Dionne Warwick: that's what friends are for! 🎵
Go on, get fitness buddies (they can be virtual too), who will support the dream until it becomes reality.
Imagine fitness as a giant flat stone–if you alone had to carry it, it may crush you. But, if you and your fitness buddies were the pillars beneath this stone, inspiring and motivating each other to uphold the training, there's a greater chance it (and all of you) will stand stronger for longer. Align your schedules and watch how much better sessions become in a team. You will look forward to catching up and toning up–together. Go Team!


9. Optimise your post-workout recovery
Training can sometimes get in the way of a busy life. Yes you read that right. But how you ask? You see, if you train too hard, too often, you may find yourself demotivated, especially if you have aches and strains caused by inadequate recovery time.
So, pay attention to your need for recovery between training sessions. This could also help make you feel less guilty for not training a day between sessions. All the while knowing you much-needed recovery is part and parcel of the actual training session.
Did that blow your mind? Good! It's better to blow minds, than diets. Speaking of diets, remember balance is key! 🔑You can unlock your recovery rate with a DNA test and continue to manage (and optimise) a healthy lifestyle. Your genes can bring insight as to the best nutrition to free your fitness potential. Try incorporate strength training into your daily 30-60 minutes of physical activity three days per week. Aim for moderate or intense muscle-strengthening workouts, targeting all muscle groups at least two days per week.
Instead of thinking of yourself as just 'busy', reframe it into thinking of yourself as 'Busy Bee': productive, hard working and with a hive full of honey. Some of us are busier bees than others, but it doesn't mean that it's impossible to dedicate time to training.
Now, even on your busiest days, you know how to keep on the path of your fitness journey. Figuring out your unique way to get moving means soon you'll discover your very own dynamic routine. No matter what changes or what the world throws at you, you will be able to fit in fitness! You'll adjust and adapt to find your best fitness-zone to keep you feeling healthier and happier.
If your current routine needs a next-level boost to make the bustling-days even better, it's definitely time to get a simple, personalised and easy to-follow-plan to improve your overall fitness. With Health Fit you can discover your very best individualised nutrient recommendations and personalised workouts regime. Take the next step!