The rise and rise of quinoa is continuing as the world turns its attention to high powered 'superfoods' that are both versatile and sustainable. But even though it seems like quinoa has only risen to popularity in the last decade or so, there is factual proof that this grain, which is actually a seed, has been cultivated for close to 5000 years, originating in South America.
But why is
quinoa

so popular?

Well, it might sound cliché but the stars have truly aligned that have made quinoa the choice food among the healthy masses. This is because not only is it 'trendy' (quinoa is gluten-free and vegan friendly) but it is also extremely nutrient dense. It is a fantastic source of protein, high in fiber, packed with B6 vitamins, magnesium and iron, and even contains anti-inflammatory phytonutrients.

Its versatility is also something to be admired as the best quinoa recipes are mainly substituting unhealthier foods for quinoa-based options that add flavour and "bulk" to your daily meals.
What can you do with quinoa?
Add it to your favourite salads to give them an extra boost
Ground it up into a powder and make it into pasta, a healthier alternative to refined carbohydrates
Use it in place of rice that can revolutionise the way you eat: stir fry, burritos, and even sushi
How do you prepare quinoa?
1. Always rinse quinoa before cooking to wash off the saponins to avoid a bitter quinoa.
2. Once your quinoa has been rinsed and drained, sprinkle your own special combination of herbs and spices over it to give it the flavour you want it to have
3. Pour your quinoa into a pot along with water
4. Boil everything together and then cover and allow it to simmer, while being sure to not open the lid
5. After simmering for 15 minutes, take it off the stove and allow it to settle for another 5 minutes before adding it to your favourite meals
Quinoa Recipes
Breakfast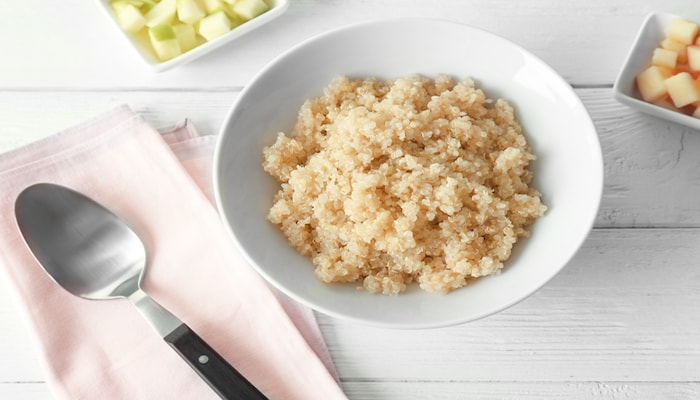 Quinoa porridge
Ingredients:
50g quinoa (red and white, cooked)
30g dried mixed fruit
1.1g ground cinnamon
1g anise seeds
2.5g vanilla essence (no alcohol)
40g maple syrup
4g pumpkin seeds
125ml non dairy milk
Cooking method:
This is a vegan recipe, add milk of your choice
Place the quinoa, milk and water into a heavy base pan, bring to boil and simmer 5 minutes.
Add dried fruit, vanilla extract and spices and simmer for a further 15 minutes or until the quinoa is cooked and liquid has evaporated or to your liking of consistency.
Sweeten with the maple syrup and add pumpkin seeds before serving.
Lunch
Quinoa bowl with poached eggs
Ingredients:
170g quinoa (red and white, cooked)
228g eggs (chicken, whole, raw)
118g curly kale (raw)
36g walnuts (kernel only)
8g fresh parsley
20g fresh lemon juice
1.1g chilli flakes
Cooking method:
Place quinoa in a non-stick saucepan and cook according to packet instructions.
Combine cooked quinoa with kale pesto (use recipe for Kale Pesto), alternatively you can spoon pesto on the side. Season with salt, pepper, and lemon juice.
Make poached eggs and serve them over quinoa bowls. Sprinkle some coriander leaves and pepper, add a sliced picket gherkins and chopped walnuts.
Dinner
Spiced quinoa with almonds and feta
Ingredients:
1 tbsp olive oil
1 tsp ground coriander
1⁄2 tsp turmeric
300g quinoa, rinsed
50g toasted flaked almonds
100g feta cheese, crumbled
handful fresh parsley, roughly chopped
juice 1⁄2 lemon
Cooking method:
Heat the oil in a large pan. Add the spices, then fry for a min or so until fragrant. Add the quinoa, then fry for a further min until you can hear gentle popping sounds. Stir in 600ml boiling water, then gently simmer for 10-15 mins until the water has evaporated and the quinoa grains have a white 'halo' around them. Allow to cool slightly, then stir through the other ingredients. Serve warm or cold.
Quinoa can change the way you view food altogether, while providing you with essential nutrients that you need to live a healthier lifestyle. It can also make it easier to eat better and stick to your eating plan to reach your goals due to it not being highly allergenic and nutrient-rich.
Eat for your genotype with Diet Fit, our easy to follow plan for those trying to improve their nutrition.
Stay up to date with the latest tips, trends and advice from the DNAfit wellness team. Subscribe to our monthly newsletter, and we'll send you more helpful content straight to your inbox! Just fill in the form below. 👇