Simon Dean, Founder of STANCE, and his partner Tally, have put together a list of date options in London you can try out to keep your relationship in the healthy zone.
Six sober dates in London with Tally and Simon
You've just met someone on Hinge. You've never spoken to them, because a pre-screen phone call is super weird. Now you're meeting up…
You look at your track record. Two in five dates are pleasant. One is a no show, one is horrendous, and one… Well, maybe one is a perfect match?
But with those odds, what do we do as Brits? We drink of course! We lube up that convo with delightful cocktails… Perhaps in a place where the ambient noise is such that you have to sit close to each other to be heard. And maybe then, sparks fly!
Hold tight! But what if one or both of you doesn't drink? Do you cancel?
Hell no, you rock on and date the DNAfit way.
Let's meet Tally and Simon
Tally doesn't drink, and hasn't for five years. But she is bold, confident, bendy at yoga, strong in her core and handy on the slopes. She's a psychotherapist and sings part time. She drives a pink Beetle.
Simon doesn't drink for 100 days each year. He trains for Spartan and 100 mile bike rides. He hates karaoke, isn't much of a dancer, but will get sucked into the occasional techno rave. He's our VP of Brand at DNAfit.
Spiritually, Simon and Tally met on a yoga-ski retreat in Chamonix with Our Retreat, but a week apart. Simon's was with Richie Norton while Tally's was with Shona Vertue. Unbeknown to each other, Simon and Tally stayed in the same room (!), skied on the same slopes and did yoga on the same floor. But it wasn't until a few weeks later that Hinge mysteriously connected them in person. 👫 So how do they spend their time, beyond some of the staples, like 'Netflix and Deliveroo'?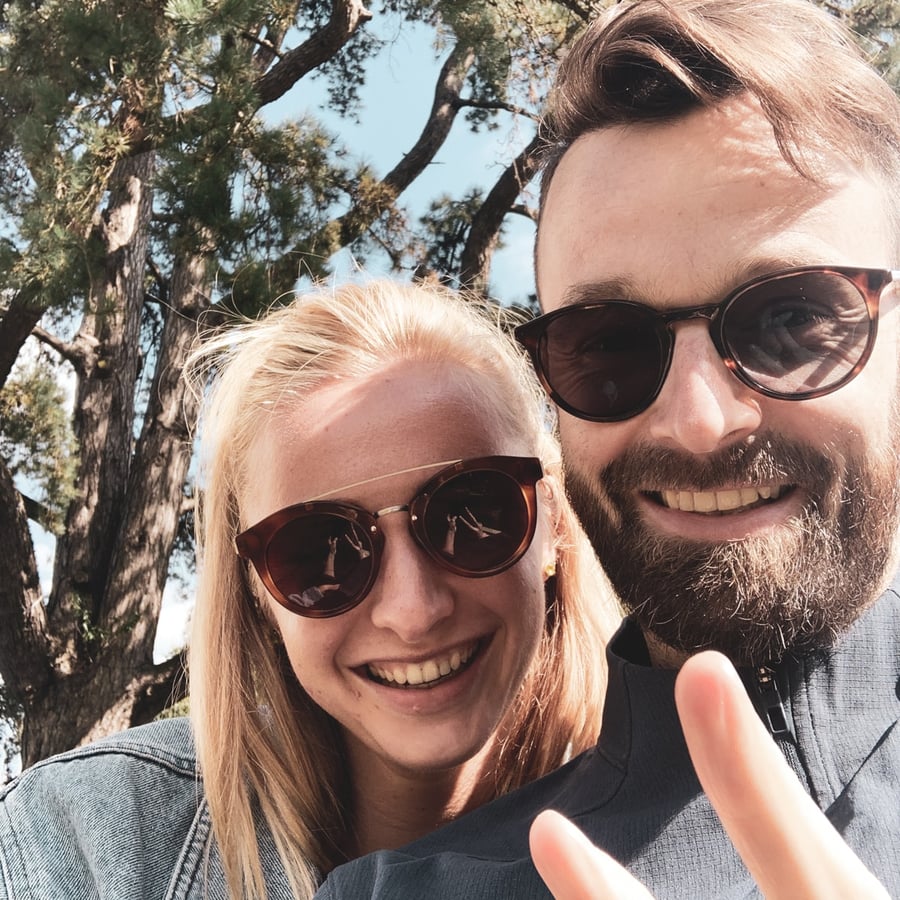 Date selfie's are a must!
1) Balance Festival
Balance is a 3-day festival dedicated to wellness held at the Truman Brewery in East London. All the trendy gyms are there: F45, Barry's and Third Space. There are hourly classes with London's best trainers, as well as seminars on the main stage.
Then you have a tonne of wellness stands, sampling everything from coconut milk and healthy gut bacteria, to protein balls and endurance gels.
Simon and Tally leave with bags of goodies, a 12-pack of Smyprove and one Thergun, a kind of battery-powered massage hammer that could be confused for a sex toy. There's also a recommendation from their friend Chris Magee to try his Yoga class at Psycle.
2) Reformer pilates at Heart Core
Heart Core is a boutique studio in West London. The reformers are high end, and at the Nottinghill venue, there's only 6 in a room. This means intimate classes with plenty of supervision from the instructor. The soundtrack is charty with a beat, and suits Tally more than Simon.
The exercises are heavy on the core and glutes, and will raise a light sweat over the course of 45 mins. Tally dominates here, in almost every way, stretching further and holding static positions for longer.
Despite being beasted by Tally, Simon loves these sessions for running and cycling, as reformer pilates is great for activating sleepy muscles, especially the glutes.
Super splits from Tally when she's in the (stretch) zone.
3) Get your Bond on at Secret Cinema: Casino Royale
Simon and Tally's first experience of this was together. Neither Tally nor Simon had been to Secret Cinema, and make the trip to outer East London to the set of Casino Royale. It's in an enormous hanger that contains sets from the film— MEGA sets. There are fighting Thai boxers, an airport lounge, a Q branch and a fully functioning casino. (Of course.) ♣♦♠❤️
You're dressed to kill and there's plenty to eat, see and do before the curtain goes up. For two hours before the film, actors play parts from the film, and you occasionally have to run for cover or chase a silver briefcase. When the film starts, the actors are still about, supporting the main feature with additional set pieces.
What's the best thing? No phones! Upon entry your phone is locked in a spy-proof pencil case, so you give each other 100% attention.
Simon and Tally, dressed to kill for their first Secret Cinema experience.
4) Yoga at Psycle
Psycle is clubby studio, centred on spinning and yoga. If GymBox is London's gritty Egg Nightclub, Psycle is more like Day Breaker, one of those sober morning raves in LA with lots of neon.
Psycle patrons don't wear clubbing gear, but they are well-presented. And there are lots of neons lights, juice bars, and places to chill. Music is a key part of Psycle and beats bounce about the place as sweaty people transition between classes.
Chris Magee's class is a fairly powerful flow, delivered with expert instruction. It's a more functional than spiritual experience, but not without feeling. And after, Simon usually treats Tally to a green juice to celebrate an evening well-spent.
5) Clay pigeon shooting at Soho FarmHouse
Just 90 mins from London, Soho FarmHouse is secluded in the Oxfordshire countryside and frequented by A LOT of Londoners—so while it's certainly chilled, there's plenty of glam and a little celebrity.
There's lots to do for the fitness fanatic: The gym is world class with loads of substantial squat racks and heavy lifting paraphernalia. There's pilates, yoga, tennis, pools, steam and sauna, and some more outdoorsy stuff, like horse riding and clay pigeon shooting.
For Tally's birthday, Simon got her some time behind the trigger. The instructor is GREAT and ensures that no angry couples shoot each other. 😅 The shooting itself is fairly tricky as a pigeon flies in an arc where you have to catch it just so. Nonetheless, if you hit it just right, there's a great buzz that sets you up for the rest of your stay.
Tally's birthday behind the trigger, clay pigeon shooting at Soho FarmHouse.
6) Improv: The Comedy Store Players
This one was Tally's idea.
The Comedy Store is in Piccadilly, Central London. It's an intimate vibe where you can catch all manor of stand up and improv (improvisation). Improv is a little like stand up, but performed in a group, without a script. Whereas stand up might pick on the crowd, improv invites audience participation.
The night Simon and Tally often go to is a Sunday: The Comedy Store Players. (They've seen Paul Merton there a few times.) It's hilarious! Of course, you don't need to be sober for this one. But it's a Sunday night, so a heavy sesh is best avoided.
The secret to any good date
When we asked Simon, what is the secret to any good date? His reply: … to be present! 😍
Simon truly believes there is nothing worse than being distracted by your phone, so he's a huge believer in Airplane Mode. Whether their phones have been captured by spies at Secret Cinema, or they're just having dinner, Airplane Mode ensures Simon and Tally give each other undivided attention.
Airplane mode isn't just great for dates. It's for bedtime too. Simon's phone stays downstairs at night so the bedroom is more or less tech free—apart from his Sonos + Alexa, which serves as his alarm and weather predictor for the day ahead.
Dating is traditionally focused on the more 'romantic gestures', but who's to say a bit of fitness-focused dates can't be romantic? If you're looking for that extra edge to your dates, try these out and let us know how it went on Facebook, Twitter, LinkedIn or Instagram, we'd love to hear from you!
Stay up to date with the latest tips, trends and advice from the DNAfit wellness team. Subscribe to our monthly newsletter, and we'll send you more helpful content straight to your inbox! Just fill in the form below. 👇