Wishing Her Majesty a Happy Birthday is doubly delightful for us this year! As the Queen celebrates her birthday, DNAfit celebrates receiving Two Queen's Awards, for International Trade and Innovation.
We're sure you know how great it feels when you're invited to a party–getting the nod from the birthday girl.You know, that feeling of pride, when you can't stop beaming due to your association with the lady of the hour? That confidence boost of 'she knows who I am.' You feel appreciated because she took the time to make a point of inviting you to her special occasion. Well, this is exactly how we at DNAfit feel with Her Majesty Queen Elizabeth II's imminent birthday celebrations.
Less than a month ago (the 20th May 2019 to be precise), DNAfit was bestowed with Two Queen's Awards. Not one! But TWO! The Double win meant recognition for both International Trade and Innovation. Having Her Royal Highness acknowledge –and award– the work that we're doing at DNAfit leaves us with that happy-feel-good-glow.
Now, as Queen Elizabeth the Second celebrates her (second) birthday, we're celebrating alongside her. If anyone best epitomises one of our motto's, it would be Her Majesty: living longer, healthier and happier–because this year she's turned 93! #lifegoals
Wait, did you say the Queen has two birthdays?
Yes, you read correctly. Her Majesty does indeed have two birthdays. The Queen's real birthday (the date she was born on) is actually the 21st of April; but it's in the 2nd week in June that the 'public celebration' usually happens. This year it falls on Saturday, the 8th of June..
Why does the queen have two birthdays?
Simply put, the weather! ⛈
This tradition started with King George II. He was born in November–so outdoor public celebrations were not possible because of the cold weather. A time during the summer months was allocated for the public celebration of his birth day. The second celebration of any Royal Highness' birthday has since been called Trooping the Colour.
Two celebrations!
Her Majesty is known to celebrate her actual birthdate privately with her closest family and friends; with a 21 gun salute around lunchtime on the 21st April. However, with Trooping the Colour everyone's invited! 💃
The Summer celebration is when you can spot large numbers of the public, locals and tourists, lining the streets waving Union Jacks (some even wearing the flag); everyone fills the Mall outside Buckingham Palace to watch the parade.
Her Majesty's birthday celebrations are certainly made to be memorable. 2019's celebration includes a 41-gun salute in Hyde Park, including a 21-gun salute in Windsor Great Park as well as a 62-gun salute at the Tower of London–promising to be a bang of a bash, in honour of Her Royal Highness. The parade includes around 200 horses, about 400 musicians and more than 1400 soldiers.💂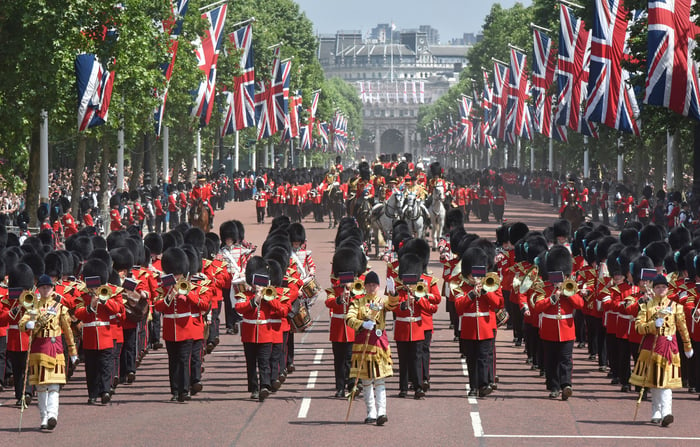 On the 8th of June 2019, if you find yourself near Buckingham Palace and in the surrounds, buckle up for a birthday celebration to remember. The parade will begin at the Queen's official residence (Buckingham Palace), move along the Mall to Horse Guards Parade at Whitehall, near to Downing Street and then back again. When the celebrations commence, be ready for some formidable fun times! 🎉
Catching a glimpse of the royal family may even be on the cards for you–as they travel down the Mall as part of the day's ceremony, before gathering on the Buckingham Palace balcony to greet well-wishers and to watch the RAF planes in an aerial display for the celebration.


What are the Queens Awards?
The Queen's Awards for Enterprise are for outstanding achievement by UK businesses in the categories of:
Innovation
international trade
sustainable development
promoting opportunity through social mobility
It's the most prestigious business award in the country–and we are incredibly proud to now own two!
On Monday 20th May, we welcomed the Queen's official representative for the region, Deputy Lieutenant Sir Ian Johnston, to our office to present our double win.
Prenetics owned DNAfit proudly received the Award for International Trade, which we achieved for our significant growth overseas in 20 different global markets in just under three years. We were also presented with the Innovation Award for our cutting edge approach to research and our dynamic implementation in the health and fitness sector presented to Prenetic's DNAfit CEO Avi Lasarow, by Deputy Lieutenant Sir Ian Johnston, on behalf of Her Majesty The Queen. Double win!
"This "double win" is a truly remarkable achievement. I understand that there were only seven other companies in the whole of the UK who achieved this in 2018. In fact, I have never before had the privilege of making a double award, and I have done many ceremonies in this part of London each year since I took on this role back in 2007. So really well done!" - Deputy Lieutenant Sir Ian Johnston, upon presentation of the awards (read the full speech from the presentation).
What's so special about the Queens Awards?
In his presentation speech, Deputy Lieutenant Sir Ian Johnston, emphasised what exactly is so special about the Queen's Awards. He highlighted the fact that it's a distinction we (at DNAfit) have all worked for and achieved together as a team.
He further placed significance on the acknowledgement that DNAfit "...have to be a great team to succeed at this level." He marked it as a distinction, as these Awards are greatly sought after when they are awarded in one category only. "In fact, this year only fifteen companies in the whole of Greater London have won this prestigious award for International Trade in 2019, and only 10 achieved this distinction for Innovation." - Deputy Lieutenant Sir Ian Johnston.
We will be able to display The Queen's Award emblem for five years — that's bragging rights for half a decade ! But, apart from swanking our top achievement to the world, at DNAfit, it means the world to us that we meet the highest standards of excellence. Not once but TWICE! Just meeting the conditions for success in both categories of Awards is a demanding task according to Deputy Lieutenant Sir Ian Johnston, and we are most proud to have done it!
The International Trade Award essentially means:
"... achievement has to be striking. Your record — 600% growth in three years, and operating in twenty different global markets — is the epitome of such a success, and I congratulate all those of you whose work has gone into making this marvellous result possible." -Deputy Lieutenant Sir Ian Johnston.
The Innovation Award makes us proud to be:
"...on a par with some of the other great historic successes in improving human life." -Deputy Lieutenant Sir Ian Johnston.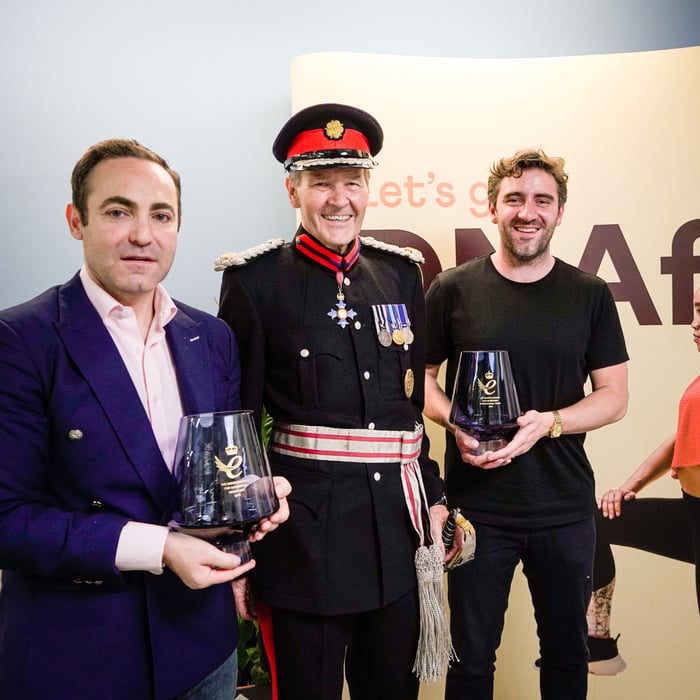 Happy birthday to Her Majesty… 👑
From the entire DNAfit team we would like to say thank you to Her Majesty for acknowledging the work we do at DNAfit and a Happy Birthday to Her Royal Highness Queen Elizabeth II, long live the Queen!


If you would like the innovative, cutting-edge science of DNA testing to become part of your personalised health and fitness plan, check out the easy steps to getting DNAfit!