It's Halloween and you know that most children will associate that with consuming an excessive amount of sugar. To keep things a little healthier, here is our trick for 5 healthy Halloween Treats.
It is hard to imagine you'll be able to banish sugar altogether but armed with these delicious recipes you've got nothing to fear. Trick-or-treaters will be delighted to receive these snacks. The best part? They are shockingly easy to make.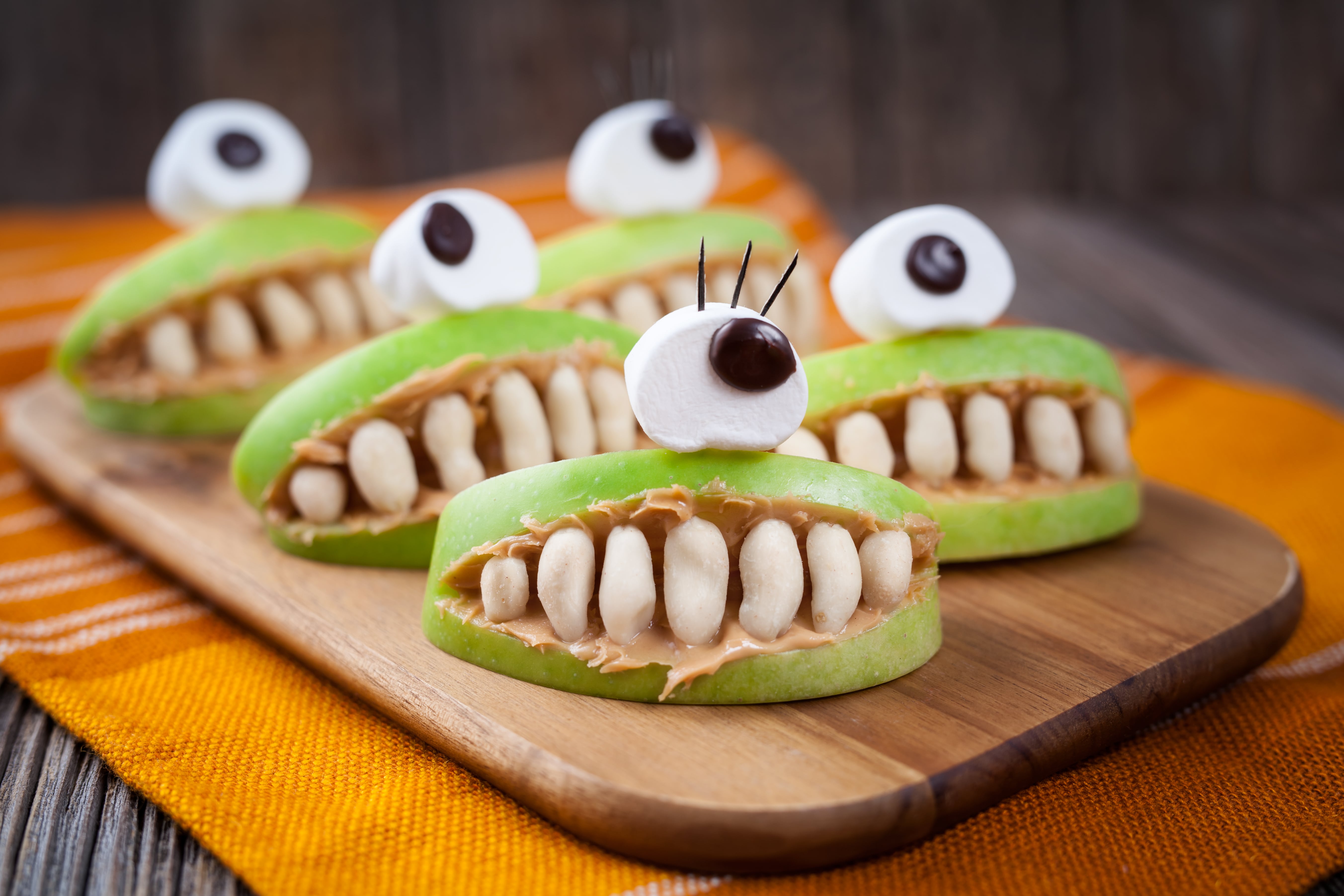 Apple Teeth
Sliced apple and sugar-free nut butter is a very healthy snack for both adults and kids, but here's a way to add this healthy snack to your spooky Halloween table.
The ingredients:
Apple
Nut butter
Marshmallows
The method:
The first step is to slice the apple into two thin slices and then
spread some nut butter onto one side of each apple slice. Add about five mini marshmallows between two apple slices and there you have it, apple teeth. Cashew nuts are also a great replacement to make the teeth.
Mummy Toast
Here's a nice and healthy savoury Halloween snack to give a try and it's definitely on the scary-looking side. Mummy toast is extremely easy to make and it will only take a few minutes.
The ingredients:
Whole wheat bread
Mozzarella cheese
Olives (black)
Red pepper
The method:
The first step is to toast the bread and slice it in half. Next, you
need to thinly slice the olives and cut thin slices of mozzarella cheese to get white strips. The mozzarella cheese forms the bandages which are crisscrossed on the toast and the sliced olives are for the eyes.
This Halloween snack is fun to build and delicious. It is perfect for kids… and mummies too.
For expert tips on eating fit every day of the year, download our free guide Eat Fit! It has everything you need to know about your best choice and handling portion control.
Frozen Boo-nana
This healthy Halloween treat is delicious, simple and the bonus is, it only consists of three ingredients.
The ingredients:
Frozen bananas
Plain greek yoghurt
Chocolate chips
The method:
All you need to do to make these treats is cut a banana in half and
place each half on an ice cream stick. Dip the banana into plain greek yoghurt, add two chocolate chips on the top end for the eyes and place them in the freezer for a couple of hours until frozen.
You can even sprinkle them with desiccated coconut when serving, for that extra spook look!
Spooky Spider Eggs
Spooky looking, healthy to consume and easy to make. What more do you want for a healthy Halloween treat?
The ingredients:
Eggs
Black olives
Mayonnaise
Mustard
Black pepper
White vinegar
The method:
Hard-boil the eggs and when cooled remove the shell. Slice the boiled eggs in
half lengthwise, remove the yolk and place it in a
bowl. Mash the egg yolks with a bit of mayonnaise, vinegar, mustard and pepper. Add a heaped teaspoon of the yolk mixture into the egg white.
To make the spider, cut an olive in half vertically. Place one half of the olive on top of the egg yolk mixture. This forms the body of the spider. Then slice the other half of the olive thinly to create 8 legs. Lastly place four legs on either side of the spider's body.
These Halloween treats are great to make with your children. And they even manage to sneak in fruit and vegetables too! Be sure to share a picture with us on Instagram! We'd love to see how they turn out. Happy Halloween!
Stay up to date with the latest tips, trends and advice from the DNAfit wellness team. Subscribe to our monthly newsletter, and we'll send you more helpful content straight to your inbox! Just fill in the form below. 👇