Meet DNAfit's ChangeMaker: Dave Asprey, CEO and founder of Bulletproof. Dave uses DNAfit to improve his health and personalise his diet. We have all the information right here, about Dave Asprey and what he thinks about DNAfit and biohacking.
Who is Dave Asprey?
Dave Asprey a.k.a the "Father of Biohacking" is not only the creative genius behind Bulletproof 360, Inc; he's also a two-time New York Times bestselling science author of books Head Strong and The Bulletproof Diet. Add to that, being the host of the Webby award-winning podcast Bulletproof Radio, and the creator of the global phenomenon Bulletproof Coffee as well as the Bulletproof Diet. Now you can see why he's described by many as a "lifestyle guru". 😎


Dave Asprey: did you know...
It's not just Dave's long list of successes that are commendable; his pure tenacity is what gives him the x-factor and puts him on our list of ChangeMakers. Dave is a technology entrepreneur and Silicon Valley investor, who spent two decades and over $1 Million to hack his own biology. 😮
Dave lost 100 pounds without counting calories or excessive exercise. How, you ask? He used techniques to upgrade his brain! 🧠 Yes you heard right! The life of science fiction movies is upon us.
Dave managed to lift his IQ by 20 points! Now that's a whopper! I'm sure you know a few people who could do with this kind of boost in brain power! Stop, go get them, and read this together! 👥
Dave lowered his biological age while learning to sleep more efficiently in less time. All this is seemingly impossible things to do… right? But Dave learnt how to do it and transformed his lifestyle, personally and professionally for the better. 🎉
Well done Dave! 🙇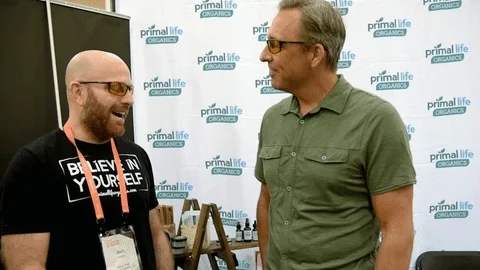 The ChangeMaker
But he doesn't just think about himself! And THAT's why Dave's our #ChangeMaker. He isn't just focused on changing his own life, he has everyone's best interests at the top of his list. Dave has, through his Bulletproof portal made it his mission to provide information on everything he's learnt.
And when we say everything... we mean EVERYTHING! Like helpful techniques about the keys to improving your biochemistry and taking control of your body and mind so they work in unison. All this to help you on your journey to execute levels far beyond what you'd ever expect, without causing burn out, sickness, or trigger stress that could control your decisions.
You may need a moment for all that to sink in. Dave Asprey, his story, career and just him as a person is awe-inspiring! While we all take a moment to let the "Awesomeness that is Asprey" really take hold what this all means for us, you can check out his Bulletproof Podcast. In this particular podcast he chats to DNAfit's CEO Avi Lasarow, and DNAfit's Head of Product and former Olympian Andrew Steele.



Dave Asprey and DNAfit
After the podcast recording, Dave sat down with Avi and Andrew, to consider what he found most interesting about getting genetically tested.
Dave points to the similarities in both the Bulletproof and the DNAfit lifestyle-change suggestions like limiting charred meat in your diet. 🥩 Charred refers to chemically damaged from the type of cooking it undergoes, eg. barbecuing. Yes, that black stuff that forms on the outside of flame-grilled meat may be yummy, but it causes a lot of damage inside your system, especially if not monitored.
Dave dynamically conveys that even when you find out from a DNA test that you're a slow metaboliser of charred meat (meaning the toxins from the chemically damaged food releases slowing in your system) it's no excuse to go out and eat barbecued meat by the bucket load. 🙅
Yes, being a slow metaboliser of charred meats does give you the opportunity to eat more than the fast metabolisers (Dave himself is a fast metaboliser), but there will still be some side effects all adds up and can have a negative impact on your health.


Dave Asprey engaging genetics
Dave actively engages with his DNAfit results with Avi and Andrew and discusses the practicalities of knowing, for instance, his vitamin needs. Dave needs more vitamin B and D and explains that knowing his genetic predispositions for these needs help him make vital choices.
How so? Instead of spending money on a general multivitamin, rather find out exactly what your body is lacking and supplement that! It not only saves you money sometimes, but more importantly the actual money you allocate for vitamins will then be going to serve your direct need.
Now that's what we call hacking what you're tracking! 🙌 No wonder they call him the "Father of Biohacking"!


Dave Asprey and biohacking
Dave is all in for the 'track what you hack, and hack what you track' model, because he is living proof that hacking your lifestyle for optimum results is not only possible but highly achievable.
Dave emphasises the importance of starting your journey with genetics. He spent a lot of time (two decades) and a lot of money with trial and error, and asserts that when you start with genetics, you save money💰 and most importantly time ⏰.
He holds firm in his belief that if he had this information at the beginning, he would have started tweaking his health earlier in his life and so already be in even better health for it.
A small shout out to Dave: Dear Dave, you are so amazing as is, if you get even better, we're here to watch and join the process! The DNAfit Family!
Hearing Dave's amazing journey so far, we all wish we were like him. But, we may not have two decades to spare or $1 Million to spend to biohack our health… But, if you want to start your journey to:
optimise your health
start feeling better
begin looking better
creating healthier, happier, and more productive days ahead...
...then DNAfit's Health Fit can give you your nutrition, fitness as well as stress and sleep genetic insights, all with one simple at-home genetic test. And we promise, it won't take two decades to get your reports and consults or cost you $1 Million! 😉
The time for change is upon us, and it's in your hands, grasp it today for greater results in your near future!



Stay up to date with the latest tips, trends and advice from the DNAfit wellness team. Subscribe to our monthly newsletter, and we'll send you more helpful content straight to your inbox! Just fill in the form below.