Doing a DNAfit test helped Olympic gold medalist, Greg Rutherford, walk away from training sessions knowing his body will respond well.
Who is Greg Rutherford?
Greg Rutherford has held every available elite outdoor title: national, continental, World, Olympic, Diamond League and Commonwealth. 🥇 Now that's impressive! 👏
He represented Great Britain at the Olympics, World and European Championships, and England at the Commonwealth Games. 🇬🇧
Before he retired, his track and field speciality was the long jump!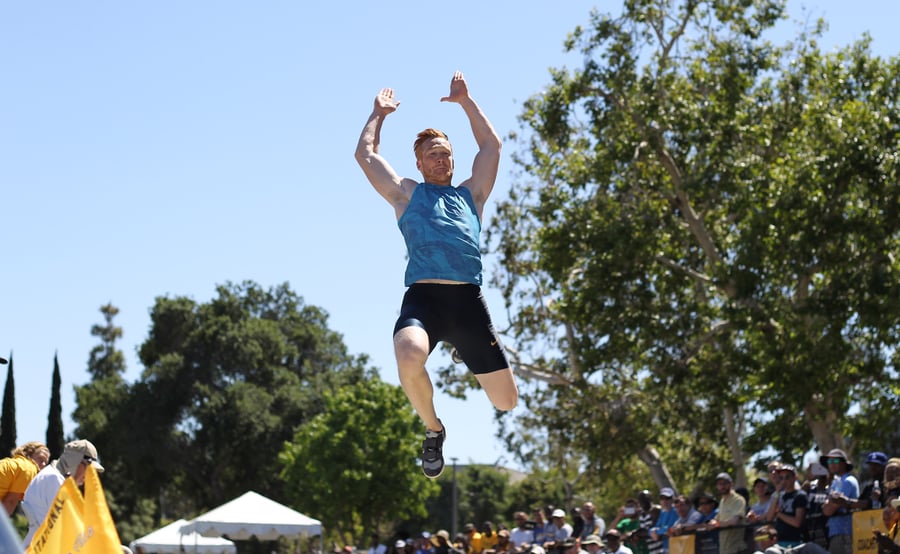 Greg's holds the British record for this event with 8.51m (outdoors) and 8.26m (indoors).😮
Greg has won gold medals at the 2012 Summer Olympics, 2014 Commonwealth Games, 2014 and 2016 European Athletics Championships and 2015 World Athletics Championships, and topped the 2015 IAAF Diamond League rankings in the event.
Now that's enhanced performance if ever we saw one. If you would like to enhance your personal performance, Enhancing Your Performance : A Genetic Guide will give you an inside look of genetic testing and ways to improve your enhancement journey.
Greg Rutherford's athletic excellence comes from good genes
Greg played several sports as a youth, including football, rugby, and badminton. Before deciding to pursue a career in athletics, Greg had trials with Premier League football club Aston Villa at the age of 14. Greg has a family history of sporting excellence. Greg is the great-grandson of footballer Jock Rutherford. Jock Rutherford won three Football League First Division titles with Newcastle United and 11 England caps, and is also the oldest player ever to have played for Arsenal. Greg's grandfather also played for Arsenal. Now that's some good genes! 😎
Greg the great
Rutherford was appointed Member of the Order of the British Empire (MBE) in the 2013 New Year Honours for services to athletics. In July 2013, he was awarded an honorary doctorate of science by the University of Bedfordshire. Rutherford was given the European Athletics Lifetime Achievement award in October 2018.
A £100,000 metal statue, situated in Milton Keynes, was erected in honour of Greg Rutherford in June 2014.
Greg Rutherford and DNAfit
Greg has always had a good idea about how his body responds to things, but he was curious about how he's 'made up'. Taking the DNAfit test was his way to reinforce the thoughts and feelings he had always had about his training and response.
He always knew he did well with speed/power training, but once he did his DNAfit test, the reinforcement of his strengths and weaknesses was a big validation moment for him. Having done the genetic test, after every training session, he now knows he's going to get the results he wants.
What's next for Greg?
Since retiring, Greg has been involved in numerous charity drives. Including recently, Channel 4's Sink or Swim in aid of Stand up for Cancer. In Sink or Swim, Greg is one of the 11 stars who have never learned to swim and are now being taught how. The celebrities are training to swim across the English Channel as part of the new reality TV series. 🏊
Greg will be broadcasting with Eurosport at Tokyo 2020, and continuing working with Cancer Research UK. Greg is proud Athlete Ambassador for the global sport for development charity Right To Play and proudly continues his work with them. He's also on the list of celebrities for the next season of Celebrity MasterChef on BBC One. 🍴
So, if you thought retiring would slow Greg down, think again! Being an acclaimed long jump champion like Greg, means achieving greatness is part of who he is, for the long run.
There is no 'one-size-fits-all framework. As long as we keep trying to maintain a healthy balance of the right foods, appropriate exercise that matches our goals, and attempt to manage our stress and sleep better than the day before, then the journey to better health is a personalised road to success.
Health Fit provides you with a personalised approach to your health. A genetic test can bring incredible insights about your nutrition, fitness, stress, and sleep predispositions. You'll be one step closer to the enhanced performance you crave.
Stay up to date with the latest tips, trends and advice from the DNAfit wellness team. Subscribe to our monthly newsletter, and we'll send you more helpful content straight to your inbox! Just fill in the form below. 👇