Normally associated with the young and agile, parkour classes are now being held that cater to elderly people to improve their balance, spatial awareness and fitness levels.
Parkour for the elderly? That doesn't sound right, does it?
What is parkour?
For those of you who aren't familiar with Parkour (a.k.a. free running), it's a form of extreme sport.
Parkour was invented during the 1980s in France. Here, nine men decided to take on their urban environment to stay fit. They pushed the limits of what was previously seen as a space which was impossible to perform an extreme sport in.
Parkour is normally associated with young people who are fit, agile, strong and flexible using their urban environment as an obstacle course. You may have seen videos of people jumping between buildings, scaling walls and flipping over parked cars, but now there's a space for over 60s to do it as well.
You're never too old to learn parkour!
The Guardian reported that a group of older people in south London are determined to do just that, attending a new class for people over 60 which teaches the principles of parkour - namely overcoming physical obstacles in an urban environment.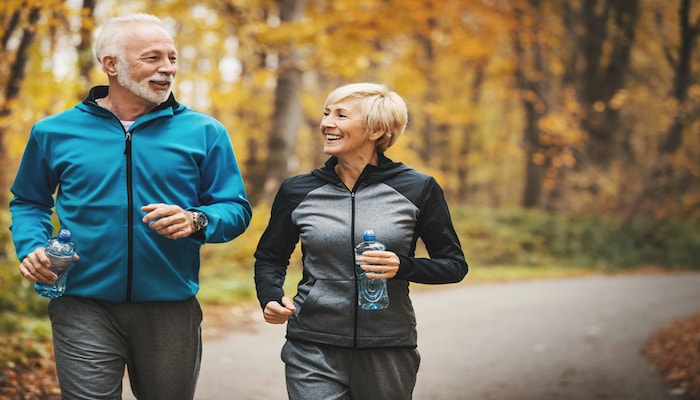 What is special about it is that we so often forget that older people are more likely to struggle with everyday obstacles in urban environments due to a number of factors that arise when you get older. As the BBC states: attendees improve their balance and spatial awareness, therefore reducing their risk of falling in later life. With that in mind, it makes sense that older people would derive benefit from learning the basics and foundational principles of parkour, and it's fun as well.
Why fitness is important
Staying fit helps improve your quality of life. As you get older, a number of things happen to your body including:
A decrease in muscle mass and strength
Loss of bone density which can lead to you picking up injuries more easily
Aging might not only affect strength and power but your flexibility too
Your VO2max levels will also decrease
Production of testosterone also decreases and this can mean weight gain
And by staying fit, through classes exactly like this parkour one, you will find that you can limit the effects and live healthier as you get older. There is no age where you can't stop keeping your body active, which is what more people should know.
One of the interviewees, George, who is 84, stated that:
"This is a great opportunity for many older people like myself who live alone, to get out of the house and keep both physically and mentally fit," he says. "The social aspect was also one of the main reasons I went. You go to these charity-run social clubs and most people are sitting down, doing nothing. But this class gets everyone trying to achieve something together."
It proves that no matter how young or old you are, there is always a space to stay fit and active and group classes are normally key due to the social aspect that comes with it. All safety precautions are taken into account beforehand, with injury history and other possible physical ailments such as participants who have pacemakers being at the top of the list to ensure that everyone is training to their own abilities, and it appears that this sort of modified parkour training is a hit.
Parkour is a great full body workout
Parkour is an excellent full body workout because it engages all muscle groups, and your workout varies depending on the route you take. It also engages your logic and creativity - keeping you thinking on your toes.
Parkour combines both cardio and resistance training
Movements that are covered include:
Jumping
Balancing
Climbing
Core strengthening workouts
Awareness while walking
These parkour classes are not only for the physical aspect. Although important, it also allows elderly people to become more confident with their bodies as they age and more prepared to do daily tasks that they may have started to feel apprehensive towards. And it's this sense of freedom and being in control that spurs people on to be healthier and happier as they age.
Find out how exercise combined with a healthy, balanced diet can help improve both your physical and mental wellbeing with Body Fit.
Stay up to date with the latest tips, trends and advice from the DNAfit wellness team. Subscribe to our monthly newsletter, and we'll send you more helpful content straight to your inbox! Just fill in the form below. 👇