We've reached a milestone and have made the decision to improve our lifestyle. But we're met with one all-consuming question, 'how can I be healthy after 50?'
Once we've made the decision to be healthier we don't have to make drastic changes to our lifestyle. The more drastic a lifestyle change, the more room for error we give ourselves. Living a healthy life after 50 can include simple changes like getting more exercise, paying closer attention to what we eat and what is in the food we eat.
The key to eating healthier lies in food labels
Food labels help us make an informed decision about the food that we are buying. While you shouldn't judge a book by its cover, you can (sometimes) just judge food based on its packaging. Especially the claims made on the front.
A lot of the time, we see bold statements about how healthy or low in calories a product is. While we like to believe that the brand has our best interests at heart, sometimes they need a dose of 'big brother.' Believe it or not what you read on a food label is overseen by various regulatory bodies, like the World Health Organisation (WHO). They assist in ensuring that the nutrition claims, health claims and food labels are correct and up to standard.
Reading a food label can be overwhelming if you don't know what to look for or where to start. Let's start at the beginning or in this case the front.
The front of the food packaging
On the front of the food packaging, you'll see the nutrition and/or health claims. These claims show you the nutritional benefits of choosing that product - instead of another. The health claims and nutrient claims should always be kept in mind when reading the food label and ingredient list.
The nutritional and health claims on the product can be different. The nutritional claim will give you an idea of and nutritional properties relating to:
energy

protein

fat

saturated fat

carbohydrates

sugar

vitamins

minerals (usually salt)
An example of a nutrient claim would be - 'source of', 'free of', 'high', 'low' or 'reduced' in calories or a particular nutrient. Here are some common nutrient claims and what they mean for you:
Health claims, on the other hand, give you an idea of the relationship that exists between the food item, or a component of that item, and your health. All health claims that you read on the packaging need to be scientifically justifiable. These claims could be in reference to:
the function of a particular nutrient

the reduced risk of developing a disease or a health-related condition

the development and health of children
A health-related claim usually appears in the form of a statement, like - 'cholesterol lowering', or 'helps aid digestion'.
A colour coding (or robot) system has been implemented in some instances to make label reading easier - this you will see also on the front of the packaging (for most products). These labels will give you a brief nutritional insight for a single serving.

Green means LOW - this is the healthier choice (and should be included daily)

Amber is MEDIUM - this okay as part of a balanced diet (and can be included most of the time)

Red means HIGH - this is a food that you should try not to eat too much of (and should be included very occasionally)

*All measures are per 100g
Usually, red means you should have less, but there are some exceptions. Like nuts, the total fat will be high but the saturated fat will be lower since nuts are so high in unsaturated fats. In this case, consider other aspects like portion size or how frequently you're eating nuts during the day.
The more green you see on your label the better!
Popcorn (25g 2½ cups )
% of an adult's Reference Intake
Typical values (as sold) per 100g: Energy 420 kcal / 1780 kJ
The back of the food packaging
A more detailed food label appears on the back (or the side) of the packaging. This gives you a clear overview of what is contained in the product from the nutritional information to ingredients list and allergens. It allows for a comprehensive comparison of similar products.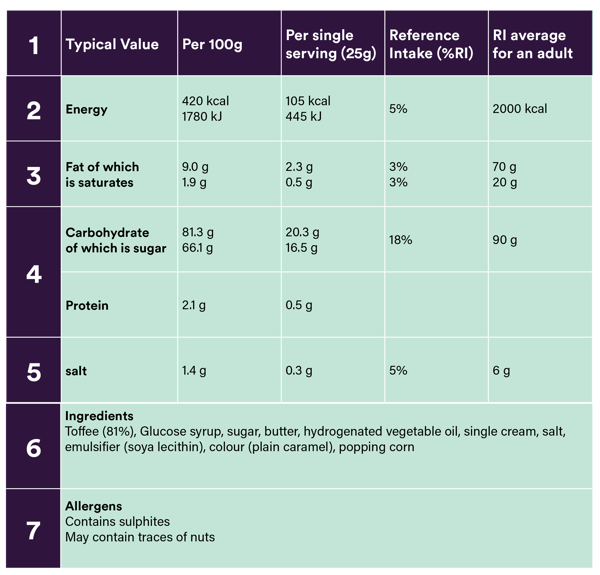 1. Reference Intakes (RI)
Always start by looking at the size of the package and how many servings you can get per package, and then reference the "per single serving" section of the food label. More often than not they are different. On some of the packaging, it might show you how many servings you will get per container or packet - keep an eye open for this. The single serving is to help you gauge the number of calories and nutrients you are going to get if you eat the recommended serving size. The label will also show you the nutritional information per 100g. The 100g reference is to be used as a comparative tool between the same foods.
Reference intakes or "RI" has replaced the RDA (Recommended Daily Amount). The % of the RI will give you an indication of how much of the average healthy maximum is in a single portion.The RI is based on the energy, fat, saturated fat, sugar and salt recommended for the average adult.
2. Energy
The energy shows the amount of energy you will get from the food when you eat it. The terms "kilocalories" (kcal) (usually referred to as calories) and "kilojoules" (kJ) will tell you how much energy is in a product. For men, they require on average 2 500 kcal (10 500 kJ) per day for weight maintenance. For the average woman, the daily recommendation is around 2 000 kcal (8 400 kJ).
3. Fat
The food label tells you how much fat is contained in the product - remember the label doesn't differentiate between added fats and those that occur naturally in the food item or ingredients. This is where reading the ingredients list come in handy and knowing where the fats are in fact coming from. Aim for a fat content of 3g per 100g or less.
Fats are divided into two groups - saturated and unsaturated fats. Saturated fats (or saturates) are usually indicated on the label and should be less than 1.5g per 100g serving. As part of a healthy diet, we should try to cut down on food that's high in saturated fat - lower saturated fat means lower risk of heart disease. So when you are looking at the label saturated fats should be less than 10% of the energy.
4. Carbohydrates
You might only see a total figure for carbohydrates on food labels. This includes the carbohydrates from both complex and simple carbs. Complex carbs are your "starchy" carbs and include potatoes, bread, rice, and pasta, whereas simple carbohydrates are often listed under the "of which is sugar" on the food label. This includes added sugars and natural sugars found in fruit and milk - these sugars we don't need to cut down on. Sugar that is added foods, like sweets, baked goods and chocolates are the type of sugar that needs to be avoided.
Food labels will tell you how much sugar a product contains, but doesn't tell you if it is natural or added! Try keep below 5g per 100g serving to keep your type 2 diabetes risk lower.
5. Salt or sodium
"Salt" includes sodium in the product. Although sodium comes from salt, it also can occur in foods naturally and can come from some raising agents and additives - it is easily hidden in everyday foods so watch out for a salt content of 0.3g per 100g or lower. Lowering your salt levels can help prevent higher blood pressure.
6. Ingredients list 📋
The ingredients list show all the foods and additives listed, if the product has 2 or more ingredients, in order of the biggest weight to the smallest - the main ingredient is always listed first. That means if the first few ingredients are high sugar (caramel, glucose syrup, sugar) or high fat options like butter, hydrogenated vegetable oil, or single cream - the food is a higher sugar and/or fat food and should be limited in your diet. The percentage of an ingredient will appear in the list if it appears in the labelling or picture on the packaging.
7. Allergens
Allergens should also be highlighted either after or as part of the ingredients list. The allergens that should appear on the food label are celery, cereals containing gluten (including wheat, rye, barley and oats), crustaceans (prawns, crab and lobster), eggs, fish, lupin, milk, molluscs (like squid, mussels, cockles, whelks and snails), mustard, nuts, peanuts, sesame seeds, soya beans, and sulphur dioxide or sulphites at levels above 10 mg per kilogram or per litre.
There are many reasons why we'd want to be healthier as we reach 50, you might be feeling aches and pains more. Or you want to increase your lifespan so you can spend time with your children and grandchildren. Either way, looking and feeling good is well within our reach. We don't have to make huge changes to our lifestyle. All it takes is a second or two longer to read the labels on your tin of chickpeas. And an extra 15 minute walk around your neighbourhood.
Learn more about healthy nutrition and following a balanced diet. Download our eBook, The Beginner's Guide to Healthy Nutrition.



Stay up to date with the latest tips, trends and advice from the DNAFit wellness team. Subscribe to our weekly newsletter, and we'll send you more helpful content straight to your inbox! Just fill in the form below.
👇