DNAfit CEO Avi Lasarow sits down with us to talk about gratitude, visualisation and achieving your goals. This Self Care Week, make a pledge of positivity.
Starting a new chapter
Six years ago, I was sitting on a train imagining the next chapter of my life. I had just started my new business, DNAfit, and I was thinking about what I wanted from life. I've never been the type of person to lack motivation, but at the start of this new chapter I had a lot that I wanted to achieve; it was overwhelming.
I knew that in order to make these things a reality I needed focus and a tonne of self belief. I wrote a list of 7 reach goals. These goals spanned all different areas of my life.
An insight into my goals….
This is the original list I created to help me focus on what I really wanted from various different parts of my life. I carried in my pocket for over 2 years.
Here is the original list I carried in my pocket for over 2 years.
Become debt free
Starting a business is not easy and it definitely isn't cheap. I poured everything I had into DNAfit but it still needed loans and credit cards. Short term debt for long term gain.
Marry my soul mate
At this point I had been dating my girlfriend Kelly for 2 years. I knew she was the one so I made her saying "Yes" one of my goals.
Buy a house with a stable
Kelly, is a semi-professional showjumper, and I knew how important it would be for her to have a house that caters for her love of horses and animals. It started as her dream but it quickly became ours.
Win the Queen's Award for Business
Over the years, I was privileged to receive numerous awards for business, but I've always had my sights set on one in particular: the one awarded by Her Majesty The Queen. I knew that this would not be easy as I had tried before.
Spoiler alert: I definitely managed this one.
Twins
Well… I love kids, so why not two at once ;)
The power is in the process
You can't reach your goals overnight. You need to continually work towards them. It is a process that requires ongoing motivation and laser focus.
Visualisation helps you focus
Creating this list of goals wasn't just about documenting it. Instead it was about bringing it, as if by magic, into my world. The secret is visualisation. You have to see the goal. You have to feel the goal. I used visualisation to completely immerse myself.
I could close my eyes and imagine what it felt like to be completely debt free. I experienced an overwhelming feeling of joy imagining Kelly accepting my proposal and eventually walking down the aisle. I visualised the great pride of receiving the Queen's award.
Gratitude helps you enjoy the journey
Gratitude is the fuel that powers you on your journey. Keeping a gratitude list kept me positive whilst overcoming huge challenges. Let's face it, we can all have a negative thought. But, if left unchecked, it tends to lower your energy. And this can evolve into a vicious circle of negativity.
You might have heard the phrase "Be careful what you wish for!" which is based on the idea that there is power in your thoughts, or even voicing something out loud. I like to turn this upside down and use the same power to drive something positive.
Scores on the doors
So here I am, 6 years or so later, and I have ticked them all off with the exception of twins. Kelly and I do however have a beautiful little boy called Isaac and another due to arrive in February.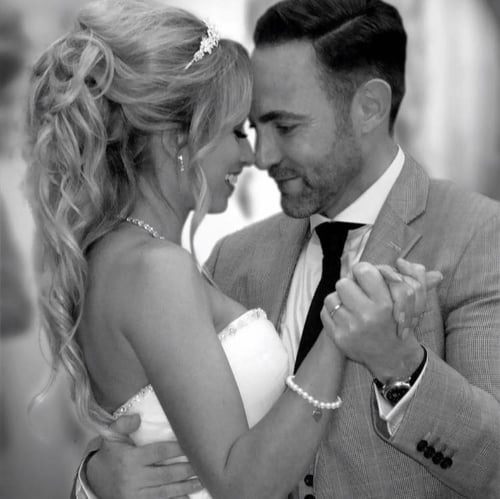 She said yes! No twins but we do have a beautiful son called Issac and another due in February.
DNAfit won the Queen's award
I am incredibly proud that DNAfit won the Queen's award. It was a monumental achievement for myself and my team. You can't imagine how I felt when I learnt that we had actually won two Queen's Awards for Enterprise for Innovation and International Trade.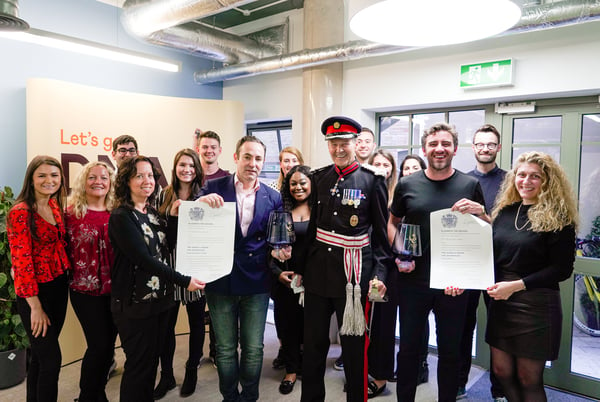 I'm sure you can imagine how happy I was to learn that we won, not one, but two Queen's awards!
Over the last 10 years, I have found myself feeling so far away from the things I want to achieve. Keeping a list of my goals allows me to focus on the outcome. And, exercising gratitude has taught me to enjoy the journey. This has brought my goals into my reach and helped me in obtaining them.
Make a pledge this Self Care Week
See how exercising gratitude can help you build a positive mindset. Every morning this week for 7 days, write 10 things you are grateful for. Then, add a note of thanks at the end of the sentence.
I am confident that if you can make this a daily practice for the Self Care Week, you will begin to see the positives that you might not have noticed before. Making this a habit can ingrain a positive to all aspects of your life as if by magic. You can learn more about this in the book The Magic by Rhonda Byrne - this book changed my life.
Check out our 'Mastering the Art of Self Care' checklist and discover how you can make self care a priority. Learn how to recognise when your energy and coping mechanisms are running low and what to do to get back on track.
Stay up to date with the latest tips, trends and advice from the DNAfit wellness team. Subscribe to our monthly newsletter, and we'll send you more helpful content straight to your inbox! Just fill in the form below. 👇