Tired of the traditional "dinner and a movie"? Here's nine active date ideas that are more creative and WAY more exciting. Your sweetheart will never forget one of these unique dates! Tomorrow, February the 14th, the world's most romantic date will be upon us: Valentines Day. A day synonymous with hearts, flowers and chocolate. That being said, we understand that not everyone is bowled over by a bouquet of red roses and a bottle of champagne and you might like to try something a little different.
If you'd prefer to lead a more healthy and active lifestyle with fitness being a focal point in your relationship, these novel date ideas are for you! We've found some fun things to do on Valentine's Day that appeal to the more adventurous among us. Don't worry, we've kept with the theme of romance.
In order to spice things up, we've given each activity on our list of creative Valentine's Day date ideas a fitness level and a romance score. Each activity has received marks out of 10 for each category, 1 being the lowest and 10 being the highest.
Active Valentine's Day dates that everyone can enjoy
1. You'd look sweet, upon the street, on a bicycle built for two
You don't have to be called Daisy Belle to enjoy our first activity, riding a bike built for two or a tandem bike. Although, be warned, first time tandem bike riding is not for the faint hearted.
While it's essentially riding a bike, there is a definite nuance to making this a successful Valentine's Day date idea. For example, always remember that the person who sits up front is referred to as captain, and the one bringing up the rear is known as a stoker. While riding a tandem bike is exactly like riding a bike there are one or two differences. So, if you do decide to try 'tandeming' make sure you and your significant other can work together (and the captain doesn't mind doing most of the work).
It has been said that tandeming has been likened to dancing, which leads us to our next Valentine's Day date idea, taking a dance class.
Fitness Level: 7/10
Romance Scale: 6/10 (higher if you pack a picnic)
2. How 'bout a little bit of moonlight dancing?
While cycling - tandem or otherwise - might be geared towards the more active among us, a great creative Valentine's Day date idea is to book a dance class for you and your one and only. Nothing spells romance like learning the tango. It is also a great full body workout that not only gets your heart beating, but helps with balance and coordination. Not to mention that it's a great calorie burner, which is perfect if you decided you wanted a sneaky Valentine's Day chocolate or two.
A dance class makes a great Valentine's Day date idea because it's not dependant on your fitness levels. You can be a fitness novice or a professional athlete and you'll still be able to enjoy moving to the rhythm of Latin music. After all, who doesn't want to star in their very own version of La La Land?
Fitness Level: 4/10
Romance Scale: 6/10
3. Take your cue from Cupid
You've decided to do something different for Valentine's Day, but what? If you're looking for a low impact activity, that will (with time) help strengthen your upper body this is it. Archery can easily be enjoyed by the more sedentary among us, so take your cue from Cupid and try your hand at this medieval sport.
Image source: Giphy
Taking an archery class is a great activity to choose this year. You can get your steps in and have a conversation with your partner.
Fitness Level: 4/10
Romance Scale: 6/10
4. You spin me right round baby
For those competitive couples who keep each other going, why not take a spin class together? While it might not be the MOST romantic activity on our list you could up the ante in the romance department by booking a couples massage to ease those tired muscles afterwards.
A spin session for two is the perfect way to get your heart rate up and burn calories! When you take a spin class your body is burning up energy reserves and building up muscular endurance. This means you'll get both an aerobic workout and increase your lung capacity. A one hour spin session at a moderate pace burns approximately 420 to 622 calories. Just enough to make room for a delicious Valentine's Day dinner.
Fitness Level: 8/10
Romance Factor: 4/10
5. Ice, ice baby
When looking for a creative Valentine's Day date idea, that helps you stay active but also allows some physical contact between you and your special Valentine, why not give ice skating a try? Not only is it one of the highest rated couples activities of all time, but the health benefits of ice skating may surprise you.
Ice skating is a great stress reliever as well as being a great way to maintain those leg muscles and get a decent round of cardio in! Yes, you can always float around the rink arm in arm, gazing lovingly into each others' eyes - or you could challenge each other: the first person round the rink buys dinner? If that wasn't a deciding factor, ice skating has been known to increase joint flexibility. This is great when celebrating Valentine's Day when you're over 30: it means you won't creak as you get out of bed the next morning.
Fitness Level: 5/10
Romance Factor: 7/10
6. A trip to the Amusement Park
An adrenaline filled ride might not appear to be a health-conscious choice at first glance, but the happy hormones that your brain produces will add a spring to your step. Walking between rides will also add a few extra steps to your date - bonus!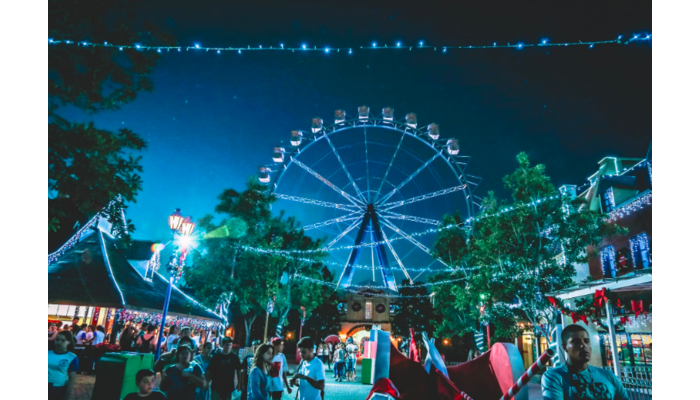 And who knows, maybe you two can hold hands on the Ferris wheel and watch all the twinkly lights? That'll bump the romance factor up a notch or two...
Fitness Level: 2/10
Romance Factor: 10/10
7. Are you ready to be swept off your feet?
In case none of the idea's we've found so far have struck a chord (and you're after something a little bit more exciting and adrenaline filled), there is always skydiving. This adrenaline filled sport is certainly not for the faint at heart, but well worth jumping out of your comfort zone for. The 'happy hormones' that are released will leave you feeling great, if slightly windswept (don't forget to pack a comb if you're headed out for lunch afterwards).
Fitness Level: 4/10
Romance Factor: 5/10
Just the two of us - we can make it if we try
While all of these ideas are great, you and your valentine might not be the kind of people who enjoy large crowds of people. If you're a pair of introverts and feel more comfortable in a slightly more intimate setting, we've found the perfect activity for you. This year, you get to enjoy a quiet night at home *and* get some exercise.
Set the mood by turning the lights to dim, close the curtains, shut out the rest of the world and challenge each other to a dance-off with Dance Dance Revolution while enjoying a cheeky Nando's takeaway. It really is the perfect date, you're with the one you love, doing something fun and the best part is, you can spend the evening in your pyjamas!
Fitness Level: 1/10
Romance Factor: 5/10
9. We'd like to axe you a question - will you be our valentine?
The best-laid plans of mice and men often go awry. If you happen to find yourself newly single and at a loose end, we suggest you find a fun activity you can enjoy with a group of friends.
Axe throwing is a great way to learn a new skill, have fun and keep fit. This activity is a great workout for your lats, shoulders and core! This sport has rapidly been gaining popularity in America and it is also a great way to work out whatever feelings you have towards your ex.
Fitness level: 5/10
Romance Factor: 1/10
You know it's love if they let you win
These fun and interesting activities have been chosen because they're a great alternative to a romantic dinner with candles - they will also help you maintain your competitive edge. Remember to go easy on the chocolates and wine, and you can still enjoy everything in moderation.
Whatever activity you decide to enjoy this Valentine's Day, know this, that if they let you win, it must be love.
Happy Valentine's Day!
Find out how DNAfit can help you to be proactive about your health today.
Stay up to date with the latest tips, trends and advice from the DNAfit wellness team. Subscribe to our monthly newsletter, and we'll send you more helpful content straight to your inbox! Just fill in the form below. 👇