Not an early riser but feeling sapped of your energy after a full day of work?
Well, you need to exercise some time, especially since you may be one of the many people who sit at a desk all day and only get a few minutes of walking around time during the day.
Even though it may not seem possible now, humans are creatures of habit and we can train ourselves to adapt. For instance, training in the morning before work. It'll be slightly challenging at first, but if you're dedicated to staying fit and healthy then soon enough it'll become second nature and you'll feel energised for the day ahead.
We look at a number of ways that you can optimise your morning to fit in your workout in a cinch, so read on to find out!
Get enough sleep
Training in the morning means earlier nights as sleep is just as important as your nutrition and regular exercise if you want to stay healthy. Our bodies rely on sleep to recover and to restore energy and when it comes to working out, you won't be able to train harder for longer if you're exhausted from a sleepless night.
Before this becomes routine, prepare for bed earlier the first week and employ mindfulness techniques such as meditation and stretching before bed, have a cup of tea and relax. Once you're training in the morning you'll find that not only will you sleep more efficiently, but you'll wake up fresher hungry to take on the day.
Stretch as soon as you get up
The main sticking point for many people when it comes to working out in the morning is the action of getting up. We all would love to lie in bed watching that clock until we are forced to get up for work and hurriedly shower and force down breakfast, but it doesn't have to be this way.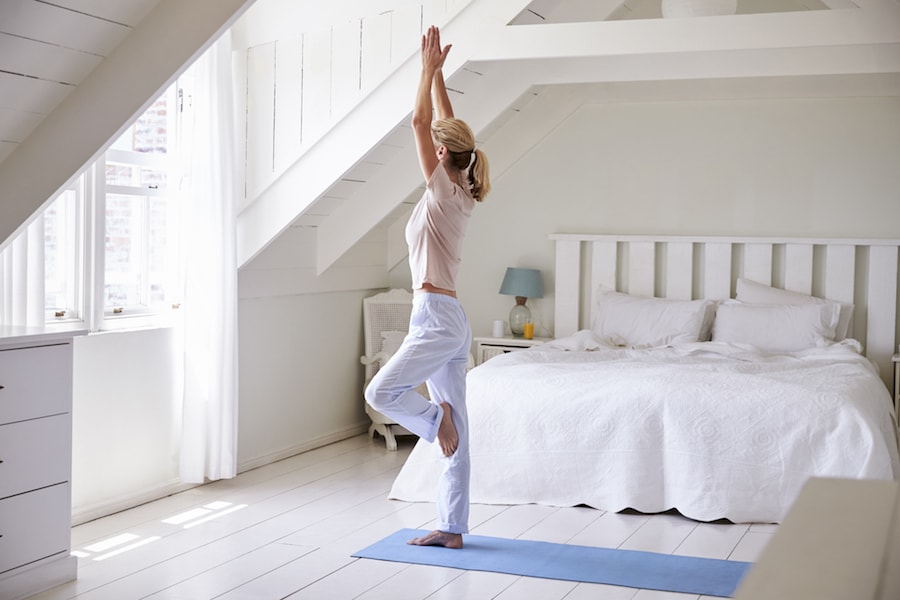 First, don't sleep next to your alarm clock but put it out of the way so that you are forced to get up. And once you're up, the hardest part is done. Warm up for training by doing a few dynamic stretches and yoga poses to get you limber and before you know it you'll be fully awake and ready to make your way to the gym. Stretching will also prepare your muscles for harder bouts of activity and will reduce your chances of picking up an injury.
Eat breakfast for an extra energy boost
If you're one of those people who are seriously depleted of energy in the morning, then eating breakfast is a surefire way to give you the boost that you need. It doesn't have to be a lot, by simply eating a fruit or preparing some yoghurt with muesli you'll get enough nutrients to liven up your body.
Always make sure not to eat too much. That will only be counterproductive to your training as you'll need to spend more time digesting what you've eaten that may hamper your training.
Prepare everything the night before
In keeping with breakfast, and changing into your gym clothes, get into the routine of preparing everything for the morning the night before. This eliminates the struggle of finding everything when you're half asleep and cuts down a lot of the time you need to spend at home.
You will also have peace of mind that everything is ready and waiting for you and makes for an efficient morning routine where you're fully focused on your goal of working out as soon as possible.
Wake up earlier than you need to
Many of us still have work in the morning, which can lead to becoming demotivated to stick to a morning routine. Why? Because you'll know that if you lose 20-minutes at home that you now have an excuse to convince yourself that there isn't enough time for you to get a proper workout.
Make sure that you wake up earlier then, while accompanying it with all the above points. The fact is that if you're getting enough sleep, and everything is prepared in advance that waking up half an hour earlier will simply give you more time to breathe and wake up, which some of us seriously need. By waking up earlier you'll also be guilting yourself into just getting to the gym, missing the crowds and having a great training day.
Get a gym buddy
Want to guilt yourself even more into training? A great way to do this is to find a friend who wants to or already does train early in the morning. Nothing will motivate you more to get up than another person who will be incessantly calling you and pestering you to get up before you settle into your routine.
You'll be motivated to train more because your gym buddy will not only help you to get up but will have you exercising more efficiently in the gym as well. This is great for your overall fitness and those endorphins that are the reason that so many of us love training every day.
Think about how you'll feel afterwards
Lastly, most of what exercising and getting up early comes down to is all in your mind. You can take all the aforementioned steps but if you don't motivate yourself to love exercising you'll never be able to settle into a comfortable routine.
So, what do you need to do? Well, tell yourself that this is what you want and once you've trained a few times you'll want that feeling of being ready to take on the day every day. It sounds obvious but this is really the only way that you're going to be coming back for more, staying fit and healthy, and hungry to reach your goals and go even further than you ever imagined.
To tap into your body's full potential, get Health Fit.
Stay up to date with the latest tips, trends and advice from the DNAfit wellness team. Subscribe to our weekly newsletter, and we'll send you more helpful content straight to your inbox! Just fill in the form below. 👇