Depression and mental illness is a growing epidemic worldwide. Andrea Boffo shares a few simple self care activities you can try daily, to help boost your mood and improve your quality of life.
Depression is one of the most widespread illnesses of the 21st century. According to the stats published by the WHO, more than 300 million people worldwide are affected by this mental illness.
For those who think they may be suffering from depression (or even long periods of a blue mood), you should take proactive steps to try and break the cycle. One of these steps is working with a licensed therapist to help you build a support system.
It's also crucial to introduce certain daily routines that help you feel better. Physical activity is beneficial for many people that feel depressed or unhappy. Bruce Springsteen, for example, says that he's been living with depression for more than four decades and that regular physical activity has helped him overcome difficult periods.
In this article we'll discuss the five daily self care activities to help lift your mood and keep your head above the water. These are:
Following a healthy, balanced diet
Spending time outdoors by going for a walk or run
Visiting your local gym regularly
Practicing meditation
Composing a "menu" for your soul
Following a healthy, balanced diet to boost your mood
It's easy to tell someone who feels morose that they should eat healthy food and be happy.
However, if you're feeling down, you don't have the emotional capacity to think about food. In the best-case scenario, you simply eat the first thing you lay hands on, just to satisfy your hunger. It's not uncommon for people living with depression to either comfort eat or neglect eating, both of which can lead to sugar spikes and dips which further destabilise your mood.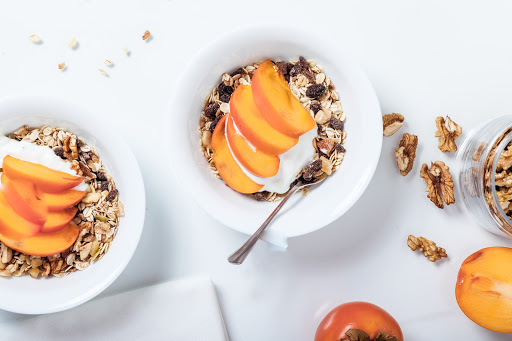 Therefore, if you're feeling low, it's crucial to resist the urge to eat sweets and junk food. While it's not forbidden to have a cake from time to time, it shouldn't be part of your daily menu.
You should opt for some of the following food choices instead:
fresh fruit
vegetables
sweet potatoes
salads
nuts and seeds
low-fat cheese and yoghurt
eggs
fish
brown rice
whole wheat bread
This is only the tip of the iceberg when it comes to a healthy diet. You can start with these suggestions and then make variations as you go. As a general rule of thumb, avoid refined carbohydrates and saturated fats wherever possible. Vitamin B-12 and Omega-3 are beneficial for people who have depression, as well.
Finally, try not to overeat in the evening. If you feel like a late night snack, rather go for a cup of soothing camomile tea. Not only will it fill you up to curb the cravings, it'll help you get a good night's sleep.
Spending time outdoors by going for a walk or run
If you do live with depression, spending time outdoors everyday running or walking is a great way to help yourself feel better. Not only does being outside help to recharge your batteries, exercise produces endorphins which help to improve your mood.
Haruki Murakami, one of the greatest writers in the world, runs every single day. The aforementioned Bruce Springsteen also has regular running routines. Even those who don't fall into depressive moods, find running beneficial to both their mental and physical health.
If you're not very fit or don't have the willpower to run every single day, a slow morning or evening stroll will still do you the world of good. Put on a pair of headphones and make your walk last as long as listening to your favourite album or podcast. The more active you become, the more you'll look forward to your walk the next day. You'll find yourself ready to run in no time!
Make sure that you always warm up for your running session. This will prevent you from injuring yourself and throwing out your routine. It's also important to run in proper footwear. It will keep your feet, knees, and back safe, plus you'll feel comfortable while running. You can motivate yourself to be more active by treating yourself to a stunning pair of new trainers (these Nike deals are a real bargain).
Visiting your local gym regularly
Breaking a sweat a few times a week is a great way to keep depression under control. The reason why we use the term 'local gym' is that many people struggle to stay motivated for a regular workout. If you choose a remote gym, you could lose the motivation pretty fast as travelling there everyday will be challenging.
Maintaining motivation is tough for people with depression That's why you shouldn't put too many demanding goals before you when it comes to your gym workout. For starters, try to visit the gym twice a week and build up from there. On the days when you don't go to the gym, go for walks or runs.
As for the type and scope of exercises you should do at the gym, talk to the staff and tell them what you want to achieve. Alternatively, you could use a product like DNAfit which provides you with a personalised training plan and wellness coach to help you stay on track. The point is to keep it simple and stay focused on your weekly goals. These baby steps will help you stay motivated and inspired to keep going to the gym every single week.
Practicing meditation
It's important for people living with depression to 'leave their minds' from time to time, and sail away to a more comfortable, relaxed place. This is where meditation comes in. You don't have to become a yogi to enjoy meditation - even complete beginners can reap the rewards of spending ten minutes a day practicing mindfulness.
If you can't clear your mind completely just yet, try to think of something that triggers positive emotions. For instance, you can think about an experience (like a childhood holiday or enjoying your favourite hobby) where you felt relaxed and less worried. Try to bring the experience to life in your mind - thinking of your five senses, such as the smells or sounds around you. You can also read more about meditation for beginners for some additional tips and pointers.
If possible, ask a partner or a friend to meditate with you. That way, you can support each other and remind each other to do these sessions every single day. As you learn more techniques and rules, you can start meditating outdoors, especially at the break of the dawn. People say that it's a great feeling that charges your batteries for the entire day.
Download this Mastering the Art of Self Care, a checklist that enables you to care for yourself a lot better.
Composing "menu" for your soul
While it's important to eat healthy food, the nutrients you use to feed your soul also play a tremendous role in keeping your mind in order.
In other words, you should put together a "menu" for your soul and use the items from it every single day. For starters, always have a book or two in arm's reach. Books are great companions because reading is similar to meditation: it takes you away to some special places and sparks your imagination.
Furthermore, keep refreshing your music player or mobile with new albums and playlists. While tastes might differ from person to person, a rule of thumb is to listen to energetic, positive albums and performers (if we mention Bruce Springsteen for the third time, it will look like an ad, but his music is very uplifting).
It goes without saying that you should occasionally watch movies and series, to keep your brain preoccupied with thing outside your mind.
It's also extremely important for your mental health to get some good sleep. The average adult should aim for at least seven to eight hours per night.
Finally, always make room for social activities. Often, when living with depression, we withdraw from our friends and family and begin avoiding activities that used to bring us great joy. This causes a negative spiral - as our loved ones are often the best support system. Try to include lunch with a friend or dinner with your family at least once a week to remind you that you're surrounded by people who care.
In conclusion, leading a healthy lifestyle is essential if you want to keep depression at bay. It's strongly recommended to avoid all the substances that could lead to mood swings. This means no drugs and little to no alcohol (which is a depressant and will leave you feeling even lower). If you find yourself tempted to partake in self-medication, contact your therapist immediately.
A healthy and balanced diet, regular workouts and engaging in activities you love with friends and family will help you keep your mind in check. All of these regular routines will help you alleviate the symptoms of depression.
Author: Andrea Boffo is CEO of PlusVoucherCode
Get your hands on Health Fit to understand your body better so you can learn effective stress management techniques that work best for you genetic makeup. Find out whether you're a warrior or a strategist and use this insight to improve your mental and physical well-being.
Stay up to date with the latest tips, trends and advice from the DNAfit wellness team. Subscribe to our weekly newsletter, and we'll send you more helpful content straight to your inbox! Just fill in the form below. 👇