Looking for a fun way to limit your consumption of that Halloween candy? These healthy alternatives are to die for! Whether you're hosting a Halloween party or looking for ideas for the perfect trick-or-treat snacks, the kids will love these spooky little critters.
Halloween is great fun for the whole family. Everyone's dressed up to the nines as their favourite superhero, villain or fantasy creature. However, there is the tendency to binge on sugary treats which are not all that good for us. While candied apples, chocolates and sweets are all Halloween staples, there are a few creative ways to make the festivities a little healthier.
These Halloween treats are so healthy, it's scary!

Bone-chilling boo-nana ghosts on a stick
Recipe adapted from: National Trust for Scotland
Ingredients
Makes 10 Boo-nanas
5 bananas chopped in half
½ cup of vanilla yoghurt
½ cup of shredded coconut
20 dark chocolate chips
10 raisins
10 skewer sticks
Thread the banana onto the skewer stick, cut side first. Dip each boo-nana into the yoghurt, and then roll it in the shredded coconut. Press two chocolate chip eyes and a raisin scream onto each boo-nana. And, voilà, your boo-nanas are ready to add a spooky, but healthy, touch to your Halloween party.

Cheesy witches' broom sticks
Recipe from: Instructables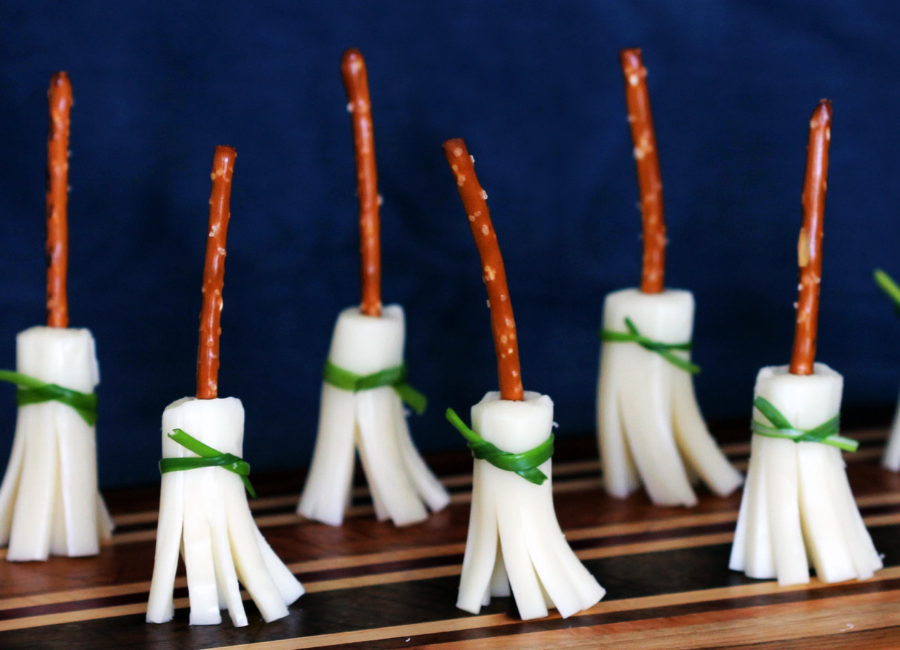 Ingredients
Makes 10 witches brooms
10 pretzel sticks
5 mozzarella string cheese sticks
10 chives
Cut the cheese sticks in half to create ten strips of cheese. Use a small knife to cut the bottom half of each cheese stick into bristles. Poke the pretzel sticks into the uncut side of the cheese stick and tie them off with the chives.


Halloween mummy celery sticks
Recipe adapted from: Confessions of a Mommyaholic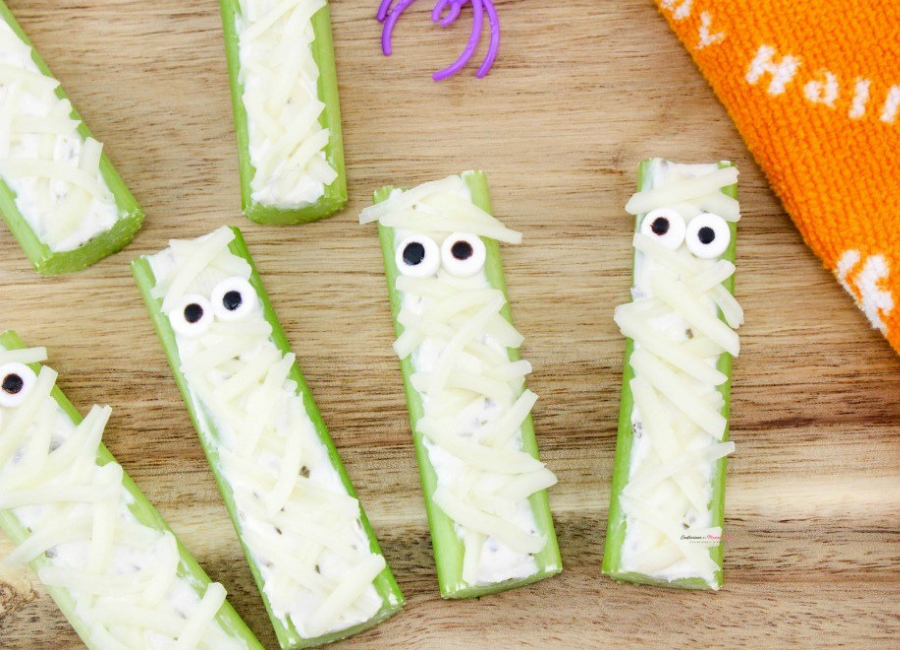 Ingredients
Makes 10 mummies
10 celery sticks +- 8 to 10cm in length
⅓ cup low-fat cream cheese
⅓ cup grated mozzarella
20 edible eyeballs
Fill each celery stick with low-fat cream cheese. Sprinkle a thin layer of grated mozzarella over the low-fat cream cheese. Press two edible eyeballs on to the top of each celery stick.

Tips to make Halloween healthier for your family, without sacrificing the fun factor


Eat dinner before you hit the streets trick-or-treating
No kid wants to wait until after dinner to tuck in to their Halloween spoils. Have an early dinner before you head out trick-or-treating, so that everyone's tummies are already full. This will not only ensure that the kids have eaten a healthy meal, but curb the likelihood of overindulging on candy.


Choose a smaller trick-or-treat bag
The bigger the bag, the more candy it can carry. Encourage kids to rather take one or two candies from each house (instead of a handful), allowing them to visit more houses before their container overflows.


Walk your trick-or-treat route
Get your 10 000 steps in for the day… Instead of driving kids from house to house, take a stroll around the neighbourhood. Plan a route and get the whole neighbourhood involved. You could even make it a challenge by including a treasure hunt, and dividing the neighbourhood kids into groups and giving them a list of clues to follow. Remember to take torches and wear a comfortable pair of walking shoes.
Download our Proactive Health Management Playbook.
Switch the sodas for water
It's so easy to drink away hundreds of calories. Fizzy drinks and fruit juices are packed with sugar, so rather serve water - allowing the kids to enjoy their candies without overdoing it. You can add slices of cucumber, lemon, mint or strawberries to give the water a yummy, but healthy flavour.


Cut back on sugar after Halloween
Everything in moderation. It's fine to enjoy a cheat-night filled with sugary treats, but try to make up for this by limiting sugar intake over the next few days following Halloween. If you have a mountain of leftover candy, think of clever ways to ration these - such as buying them back from your kids or trading them for something they really want. You can then keep the candy for special occasions.
Got some healthy Halloween tips or recipes of your own? Be sure to share them with us on your favourite social media platform.
Get Diet Fit, our easy to manage plan for those trying to improve their nutrition.
Stay up to date with the latest tips, trends and advice from the DNAfit wellness team. Subscribe to our weekly newsletter, and we'll send you more helpful content straight to your inbox! Just fill in the form below. 👇